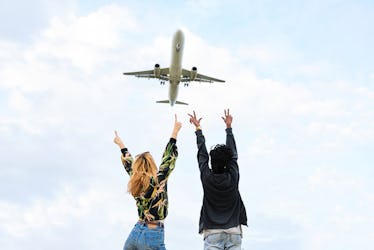 You Can Get 50 Percent Off Your Next Flight With This Airline's Holiday Special
As the new year creeps up on you, you might find yourself hurriedly throwing together some resolutions to ensure that you live your best 2018 life in the upcoming 12 months (like, say, travel more?). Or maybe you're more focused on the present and scouring the internet for some last-minute getaway deals to send 2017 off with a bang. Either way, there's an airline that has offered up a holiday gift (in the form of a flash sale) for any would-be travelers. WOW Air's 50 percent off flights special is here for a short time, and it will help you save big on your next vacation.
In case you're not familiar with the airline, WOW Air specializes in "cheap flights" departing from the U.S. to Europe, Iceland, and Asia, according to their website. Couple that standard with their WOWXMAS sale going on from Friday, Dec. 22 until Saturday, Dec. 23 at 6:59 p.m. ET, and you could really save big on your international flights. It's simple to redeem the savings, too.
First, you need to select your flight departure and destination cites along with your dates of travel on the booking page. To qualify for the 50 percent off all flights, your travel dates must be between Dec. 27, 2017 and May 15, 2018 — perfect timing for an impromptu New Year's Eve trip. The most important step to redeem your discount is to make sure that you enter "WOWXMAS" in the "Promo code" box.
Here is what your booking page will look like with "WOWXMAS" in the bottom left corner "Promo code" box.
Once you have all of your search information completed with the promo code, you'll click "Search Flights," and the 50 percent savings will be reflected in the prices shown in step two of the booking process. OK, so obviously you're probably already familiar with how to book a flight, but the most important step to ensure that you're saving money on the flight is to use the WOWXMAS promo code — and book before Saturday, Dec. 23 at 6:59 p.m. ET.
Now that you're set with how to score your flight deal with WOW Air, all you have to do is decide which international city you'll travel to between Dec. 27, 2017 and May 15, 2018. The airline departs from 14 U.S. cities, including Boston, Chicago, Los Angeles, and New York City. Your possible destinations include cities like Barcelona, Dublin, London, Paris, Reykjavík, and Stockholm.
Of course, if you're booking your flight for New Year's Eve or the beginning of January 2018, you're prices will be higher since you're traveling so close to your booking date — but you're still getting 50 percent off on select flights, so it's likely to be one of the best deals you'll find right now. For example, a flight from Chicago to Paris departing on Dec. 28, 2017 and returning on Jan. 5, 2018 is $1,320 round-trip. That same route, though, from Apr. 29 to May 5, 2018 is just $242 round-trip. At those prices, you don't want to pull a Lauren Conrad from The Hills and "be known as the girl who didn't go to Paris."
If you have flexibility with your travel dates, you could really score some big savings on your upcoming international travel, and then maybe use the money you save to jet-set in style (and bring home all the best souvenirs from your international destination of choice).
WOW Air is no stranger to killer deals. The airline also recently announced $99 one-way tickets to Reykjavík, Iceland. So, if you've been bombarded with FOMO from all the killer photos your friends have been posting of their own Icelandic adventures (It seriously feels like I'm the only one who hasn't been to Iceland at this point.), you can get in on the action for a fraction of the regular price.
So, if your dream destination in the coming year requires a passport to get there, you'll definitely want to take advantage of this flash sale and ring in 2018 with a little extra change in your pocket.
Check out the entire Gen Why series and other videos on Facebook and the Bustle app across Apple TV, Roku, and Amazon Fire TV.