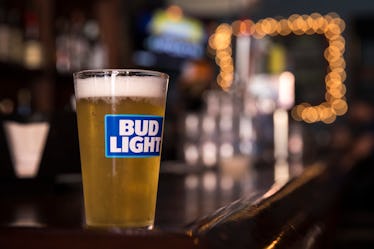 These $2 Bud Lights From Applebee's Will Let You 'Dilly Dilly' All November Long
Drew Angerer/Getty Images News/Getty Images
Forget about those Black Friday and Cyber Monday deals, because Applebee's is selling $2 Bud Lights in November for your next happy hour. It's literally the only deal you need to know about this holiday season. Think about it: there aren't many things you can get for just $2. It's hard to get a cup of coffee for that price. Suffice to say, Applebee's is really speaking my love language with this deal. Before you raise a glass and say, "Dilly Dilly," here is what you need to know about the month-long promotion.
There's no better way to end a long workday than with a pint of something delicious and all your best pals. It's time to start up that group chat and make plans to visit Applebee's for your next after work happy hour. Your friends will be tickled to know that a 10-ounce pour of Bud Light is only $2 right now. The deal is valid at participating Applebee's locations throughout the country. If you aren't sure whether or not your local Applebee's is partaking in the cheap drinks, just give them a call before you go.
Additionally, this deal is only valid while supplies last. Oh, and this goes without saying, but you have to be dining in if you want to order a $2 Bud Light. In other words, your server won't be giving you beer in a to-go cup. The light lager is served up in a frosty cold mug, so your beer will maintain peak coldness from start to finish.
The deal is a part of Applebee's Neighborhood Drink of the Month program. Each month, Applebee's rolls out a different drink special. In October, Applebee's released a rum-based Dollar Zombie drink to celebrate Halloween. And, in August, the eatery served up Strawberry Dollaritas (aka a strawberry margarita). You get the idea.
If you are one of those drink snobs who scoffs at any drink under $10, let me tell you something. I love a fancy $14 craft cocktail as much as the next person, but there's something about a pint of cheap beer. It just gets me. Whether I'm watching college football (go Knights!) or relaxing at an afternoon gathering with friends, beer is my go-to beverage of choice. I, of course, always make sure to enjoy my drinks responsibly. Just like you should if you are partaking in this $2 Bud Light deal from Applebees. You should always call an Uber or Lyft (or whatever safe ride you use) if you're indulging an a 21-plus libation.
Applebee's $2 Dilly Dilly Bud Lights are available for the entire month of November. If you plan on visiting Applebee's with any regularity this month, it might be worth it for you to purchase a gift card. When you buy a $50 gift card to Applebee's, the restaurant will give you a $10 bonus gift card at no additional cost. The gift cards don't have an expiration date. Treat your friends for a round of drinks. Just remember to raise your glass up high and say "Dilly Dilly" before you take your first sip.