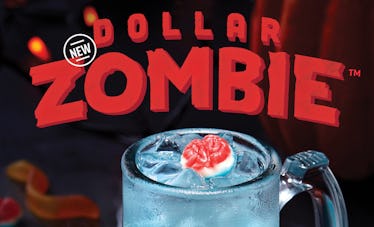 Applebee's Is Selling Dollar Zombie Drinks In October So You Can Get "BOOsy"
It's finally October, which means a majority of the drinks in your diet are about to get a spooky makeover. I'm sure you're already sipping on PSLs and pumpkin-flavored beer, but what about the post-work cocktails? Thankfully, Applebee's is selling Dollar Zombie drinks in October that sound so good, it's scary (and I mean literally scary). The Dollar Zombie is here to be October's Neighborhood Drink of the Month, and you can sip on it until Halloween for merely a dollar. It's definitely not your typical cocktail — but if you're into zombie brains and neon colors, then you're going to love it.
OK, OK... I should be a little bit more specific than that (I don't want to scare you too much). Instead of being garnished with fruit, Applebee's Dollar Zombie is topped with a gummy zombie brain. That's not it — the drink is electric blue in color, which will give you all of the radioactive vibes you'll need this Halloween season. Thankfully, the price of the Dollar Zombie isn't as scary as its "afterlife" aesthetic. As I previously mentioned, you can order the Dollar Zombie for $1 at participating Applebee's restaurants throughout October. It's the perfect cocktail for anyone who wants to drink (and get spooky) on a budget.
Patrick Kirk, the Vice President of Beverage Innovation at Applebee's, talked about the festive cocktail in a press release. He said, "Halloween is a favorite holiday around here, and we're excited to offer guests the opportunity to celebrate all month long with our new Dollar Zombie. We invite people to get into the spirit early by trying our Neighborhood Drink with an infectious taste. The only thing to fear this Halloween is missing out on this awesome drink."
As someone who loves Halloween and delicious cocktails, I need to try this drink. Who's with me?
Speaking of "delicious" cocktails, let's talk about what the Dollar Zombie is made of. According to a press release, the drink consists of a combination of rum, pineapple, passion fruit, cherry, and lime flavors. In other words, it's the perfect beverage for anyone craving something sweet without breaking into the Halloween candy bowl. Since the drink contains alcohol, you'll need to be at least 21 years old to order it. As always, Applebee's is encouraging its customers to drink responsibly.
Believe it or not, Applebee's guests are the ones who helped create the boozy drink in the first place. According to the chain, the Dollar Zombie is the first crowdsourced Neighborhood Drink of the Month, which means customers provided input for the cocktail's components. Everything from the Dollar Zombie's ingredients to its aesthetic were crowdsourced — so you can thank your fellow Applebee's goers for the delicious Halloween drink.
If you're hoping to give the Dollar Zombie a try, call a designated driver and head to Applebee's. Just keep in mind that the drink's price and hours of availability might vary by location. To make sure your local spot is pouring the spooky cocktail, give 'em a call. You definitely don't want to miss out on the "BOOs."