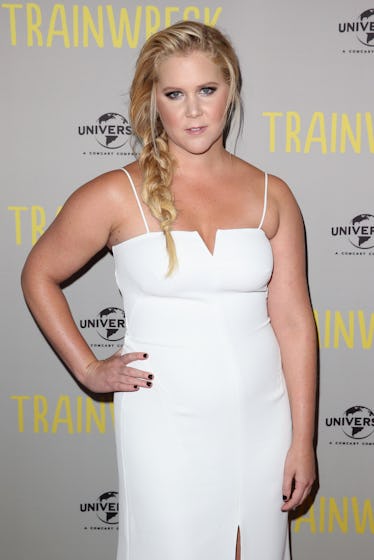 Amy Schumer Looked Absolutely Magical In Her Wedding Dress, So Take Note Meghan Markle
Brendon Thorne/Getty Images Entertainment/Getty Images
I'm crying right now, not just because my favorite comedian got married in a secret ceremony, but because she looked like the fairy bride of my dreams while doing so! Amy Schumer's wedding dress is absolutely gorgeous and I, for one, will never get enough of it.
I've been a huge fan of Amy's since seeing her at Comedy Cellar in New York three years ago. Her fearless selfhood and f*cking hilarious and relatable jokes hooked me immediately, and I've been following her show, movies, and love life ever since. I was elated when I first heard about her relationship with her ex-boyfriend, furniture designer Ben Hanisch, and was irrationally sad to learn of their breakup two years later. So you can imagine that when Amy posted a photo of her kissing chef Chris Fischer at Ellen DeGeneres' 60th birthday party, I was excited.
That was three days ago, and now, Schumer and Fischer are married. According to W Magazine, "Schumer announced the ending of her relationships with ex Ben Hanisch this past May, and rumors started bubbling up in September that she was dating Fischer. They seemed to be confirmed when the duo was snapped having dinner together in New York City in November." I am all about whirlwind romances. As the saying goes, "When it's right, it's right." And nothing makes me happier than seeing my comedy Queen happy and glowing and looking beautiful AF on her wedding day. I am elated.
The ceremony reportedly happened on Feb. 13 in Malibu, California, and was attended by around 80 guests. They casually included Jennifer Lawrence (Schumer posted a picture with her on Instagram), Jennifer Aniston, Larry David, Judd Apatow, Jake Gyllenhaal, and more. Kim Caramele, Amy's sister, served as one of the bridesmaids, while two dogs adorably took on the roles of flower girl and ring bearer. The service was officiated by rising comedian John Early, who was in character as a midwestern mom named "Vicky With a V." Based on the photos Schumer posted, the ceremony appears to have overlooked the ocean and lighting suggests that it happened during or just before sunset — the whole scene is dazzling.
Schumer's wedding dress, however, really stole the show. By Monique Lhuillier, it features a delicate lace bodice, thin spaghetti straps, and romantic tulle skirt, which all combine to create a sublimely ethereal look. It's understated, but the floral lace appliqués that fall down the skirt from the bodice add a layer of subtle detailing that elevates the entire dress. Paired with a perfectly mussed low ponytail and bouquet of white flowers, the dress looks stunning, effortless, and elegant.
The bridesmaids wore dusty pink dresses, which were also complete with floral appliqués and had silk sashes wrapped around their waists. Their heads were topped with crowns of small roses, which allowed their looks to fit the woodland fairy-esque theme to a T. The fashion overall looks like something you might see at one of your friend's weddings, which I love. There was nothing overly precocious or "celebrity" about it.
Knowing Schumer's sense of humor, I can't help but to wonder what the wedding reception was like. I'm sure it was full of wild dance moves (if you've read her insanely good book, The Girl with the Lower Back Tattoo, then I'm sure you agree), joke cracking, and good food. Although she's already had to announce to trolls on Instagram, "No I'm not pregnant," I hope she and Fischer get to enjoy some sort of privacy during their first few weeks of newlyweds. You better believe I will be living for their honeymoon photos, should they choose to post any.