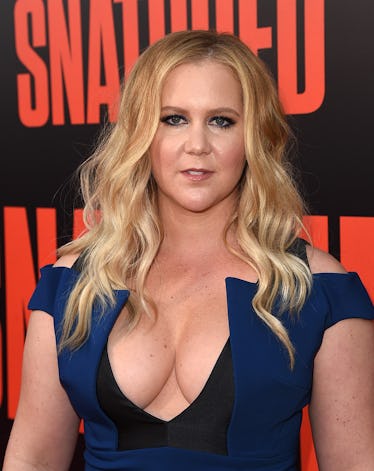 Amy Schumer Just Shared A Photo Of Her Bare Baby Bump Along With A Bittersweet Announcement
Kevin Winter/Getty Images Entertainment/Getty Images
Amy Schumer is showing the world her growing baby bump again. The actress/comedian is currently on a comedy tour throughout the U.S., but her health issues during her first pregnancy have presented some obstacles for the mom-to-be. Schumer was recently hospitalized for hyperemesis gravidarum (it's basically extreme nausea during a pregnancy), prompting her to reschedule some of her shows. She got back onto the stage after the hospitalization, but her newest Instagram makes it clear just how rough her pregnancy has been so far. And Amy Schumer's photo of her baby bump reveals more about her experience with hyperemesis gravidarum.
The photo shows Schumer in sweats and pulling up her T-shirt to show her belly. According to her Instagram posts, she's currently in her second trimester and is throwing up all the time due to her hyperemesis gravidarum. If you've never heard of it, hyperemesis gravidarum is a condition during pregnancy that causes "severe nausea, vomiting, weight loss, and electrolyte disturbance," according to the American Pregnancy Association. Milder cases can be treated with bed rest, antacids, and dietary changes, but more severe cases, like Schumer's, are treated with hospitalization where the mother can receive fluids and nutrients via an IV. Kate Middleton had hyperemesis gravidarum during all three of her pregnancies.
Schumer revealed on Instagram on Nov. 16 that she had been hospitalized to help treat her hyperemesis, and it made her have to postpone a few of her shows.
"Texas I am so deeply sorry," she wrote on Instagram at the time. "I have been really looking forward to these shows. I have to reschedule. I am in the hospital. I'm fine. Baby's fine but everyone who says the 2nd trimester is better is not telling the full story. I've been even more ill this trimester."
She continued,
I have hyperemesis and it blows. Very lucky to be pregnant but this is some bullsh*t! Sending so much love to the doctors and nurses taking great care of me and [my dog] Tati! They are cool as hell! And Texas I am really really sorry and I'll be out there as soon as I'm better.
She was back to performing by Nov. 19, just in time for her show in Newark.
But her latest Instagram has revealed she can't currently travel cross-country because of her hyperemesis.
"Thanks to Newark and Pittsburgh," Schumer said on Instagram. "I'm so happy to be feeling better and I will be able to continue my tour... However doctors orders not to travel cross country yet so I'm sorry that Seattle, Phoenix and Oakland will need to be postponed."
She continued, "I promise to go see you guys and make up the date real soon... The rest of the tour will go on as planned! Happy Thanksgiving!"
Schumer announced she was pregnant in a sly post that was all about voting in the November 2018 midterm elections.
The photo on Jessica Yellin's Instagram story showed a list of candidates Yellin and Schumer endorsed. At the end of the list, it said, "I'm pregnant-Amy Schumer." We see what you did there, Amy.