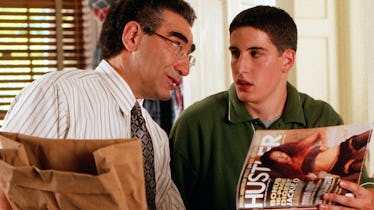 'American Pie' Is Hitting Netflix In February, So Get Ready For Saturday Nights In
Universal Pictures
Call up your friends from band camp, because one of the most raucous high school comedies ever is about to start streaming. That's right — American Pie is landing on Netflix in February, and it will obviously make the perfect movie night for you and your friends. Netflix will unveil its full list of movies and TV shows being added to its library in February on Tuesday (Jan. 23), but ahead of that, Elite Daily can exclusively reveal that American Pie and its sequel American Pie 2 are among the soon-to-be-added movies.
When it came out in 1999, American Pie immediately cemented its place as one of the most outrageous movie comedies of the generation. The sex comedy follows a group high school seniors who make a pact to lose their virginity before graduation. Of course, hijinks ensue... involving webcams set up in foreign exchange students' bedrooms, wild stories about band camp, and a particularly unappetizing scene with an apple pie that gives the movie its name. American Pie's brash, eye-popping scenes inspired a wave of teen sex comedy films throughout the early 2000s.
After its success in theaters and home release, American Pie went on to launch an entire franchise centered on the sexual hijinks of the first movie. The film got three sequels and four direct-to-DVD spinoffs. The sequels were American Pie 2 (2001), American Wedding (2003), and the relatively recent American Reunion (2012), which was released to theaters over a decade after the original movie. American Pie also spun off into four direct-to-DVD movies throughout the later half of the 2000s, including Band Camp (2005), The Naked Mile (2006), Beta House (2007), and The Book of Love (2009). But out of this sprawling franchise, only the original American Pie and its first sequel American Pie 2 are being added to Netflix this February.
Thanks to American Pie's success and the ubiquity of all of its follow-up movies throughout the 2000s, it launched the career of a lot of famous actors. It was the first major motion picture role for its star Jason Biggs, who had only been in a couple independent films before then. Biggs is still best known for American Pie, but now is also a big name on television thanks to his role on Orange Is the New Black... on which he co-stars with his American Pie castmate Natasha Lyonne. Other big names to come from the American Pie movies include Alyson Hannigan, who starred in the first movie right around the time when her major series Buffy the Vampire Slayer was just taking off and followed that up years later with another iconic TV role in How I Met Your Mother, and John Cho, who's small part in the movie was one of his first roles. Oh, and of course there's future Oscar-winner Casey Affleck, who plays Kevin's older brother in American Pie.
The other notable thing about the American Pie cast is that many of them went on to become pretty synonymous with pop culture in the 2000s. Stars like Tara Reid, Seann William Scott, and Chris Klein starred in a bunch of movies after American Pie, and remain best known for their ubiquitous status in 2000s-era teen comedies. But the movie didn't just serve to launch the careers of its younger cast; it also gave greater exposure to comedy legends like Eugene Levy and Jennifer Coolidge.
Now, nearly twenty years since its theatrical release, American Pie is going to be available to stream on Netflix. Check it out when Netflix updates its movie library this February. A full list of the new Netflix additions for February is coming soon.