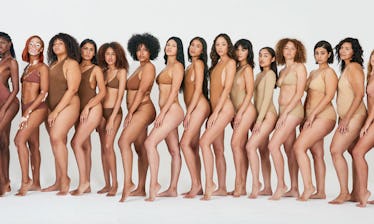 American Apparel's NUDES Collection Is The Fenty Beauty Foundation Range Of Fashion
The beauty world was rocked when Fenty Beauty released a very necessary 40-shade foundation range last year. The offering was the most inclusive of its kind and its success prompted other major beauty brands to follow suit and expand their own shade ranges. American Apparel's NUDES collection just might be to the fashion world what that epic Fenty Beauty foundation range was to the beauty world thanks to its championing of the fact that three shades do not constitute a robust range of nude underwear offerings. It's 2018; it's about time.
If you think about it, how many shades of underwear labeled "nude" have you actually ever seen at a store? Two, maybe three? When you consider the range of skin tones that you see on a daily basis, how can that possibly be the case? For far too long brands have ignored the majority of women by not offering underwear that truly matches their shade, but hopefully American Apparel's NUDES collection will start to change all of that.
The brand, which is doing a dang good job of getting back on its feet after experiencing a very public downfall a few years back, just released a collection of basics including bras, underwear, and bodysuits in not two, not three, but nine shades of nude. It still doesn't hold a handle to Fenty's range of 40-shades but progress takes time and this is a very strong start!
The six-style collection includes cult American Apparel favorites like their crossback triangle bra and halter bodysuit. A thong, hot shorts, and two additional bodysuits are also included in the collection, and everything is offered in XS up to XXL and ranges between $6-$32. All the basics covered and they look comfy AF to boot.
But what's possibly even more exciting than the products themselves is the campaign that they were launched with. To say it's inclusive would be an understatement when said within the context of the current fashion industry landscape. It's inclusive AF and will make you feel all kinds of empowered and happy and seen when you look at it.
Women of all skin tones, shapes, sizes, and curves are represented within the campaign. Little girls will be able to look at it and see themselves in it and understand that they are beautiful just the way they are, and grown women will be able to look at it and finally feel represented and respected for their realness. It's an ode to diversity and a championing of unique beauty and it is so past time for something like this to come out.
There's no question that fashion is becoming more inclusive. The topic of diversity within the industry has thankfully become a hot one as of late and brands are taking major steps to righting their wrongs by casting real women (aka all women) within their campaigns. But this one by American Apparel feels especially authentic and genuine. They didn't just cast diverse women to represent their brand, but they also created diverse garments that would truly represent those women. It's beautiful.