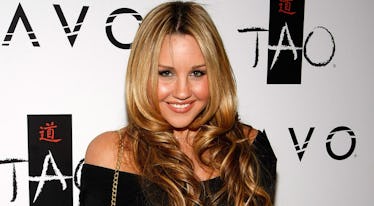 Amanda Bynes May Have Major Acting Plans For 2018, So Get Excited
Ethan Miller/Getty Images
It has been eight years since we last saw Amanda Bynes on the big screen, but the queen of mid-2000s teen rom-coms might be making her big return later this year. A new report claims that Amanda Bynes plans to return to acting in 2018, so all your wishes for another What a Girl Wants or She's the Man might finally come true!
Apparently, Amanda Bynes is planning to make 2018 her "triumphant return" to the acting world, according to a new report from Us Weekly. An unnamed source is saying that Bynes will be graduating from the Fashion Institute of Design & Merchandising this summer, and after she gets her diploma she has her eyes set on TV roles for the second half of 2018:
Amanda is going to be graduating from fashion school this summer. She is doing so well and is very excited about the next chapter of her professional life ... [She] has been focused on school and does want to return to acting ... There is interest about her return to the small screen.
Now, of course this news should be taken with a grain of salt since it is coming from an unnamed source, but it actually does echo a statement that Amanda Bynes herself made last summer, so it might actually hold water. Last June, Bynes gave a very rare interview to the YouTube show Hollyscoop, in which she said that she missed acting and was planning to return to her old profession. Similar to the new Us Weekly report, Bynes said that she was focusing her efforts on the small screen for now, hoping to land some guest spots on a few currently running shows and then starring in her own new TV series.
Adding some fuel to the fire, Amanda Bynes has also recently returned to Twitter, posting her first tweet in nearly a year over the weekend. With this new report reaffirming Bynes' recent statement, it's seeming even more likely that we will be seeing her on our TV screens again pretty soon!
Unfortunately, it sounds like fans of Amanda Bynes' movies might have to wait a bit longer for the actress to return to the big screen, since all the talk right now is focused on TV roles. Bynes was a ubiquitous television star for a decade, ranging from 1996 to 2006. She started off on Nickelodeon's sketch comedy show All That, and then spun off from that into her own sketch series on Nick called The Amanda Show. From there, Bynes made her transition from child star to teen queen with her starring role in the WB's four-season sitcom What I Like About You.
By the mid-2000s, Amanda Bynes had also become an in-demand film actress, noted as one of the stars that helped define the teen rom-com boom of the era. Bynes helmed millennial-beloved hits like What a Girl Wants and She's the Man, also co-starring in 2007's Hairspray remake. However, Bynes took a break from acting after her co-starring role in 2010's Easy A. Shortly afterwards, she became embroiled in a number of highly publicized legal issues, including a DUI charge in 2012 and an allegation that she started a fire in a stranger's driveway in 2013.
After the years of public scandal, Amanda Bynes enrolled in the renowned fashion school FIDM in 2014, and is reportedly on track to graduate with a degree in product development this summer. Since her enrollment, Bynes has kept a very low profile, rarely addressing the public. Along with her plans to return to acting, Bynes is also reportedly interested in developing her own fashion line following her graduation.
After eight years with no Amanda Bynes movies or TV shows, I know that I am keeping my fingers crossed that her big return is coming later this year. It sounds like it is!