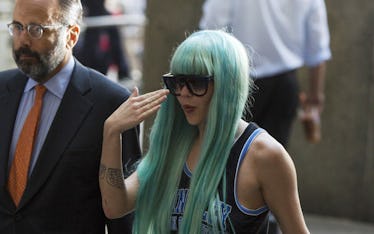 Amanda Bynes Posted Her First Pic On Twitter Since 2016 And Fans Are Losing It
REUTERS
Hold onto your Trapper Keepers, high school graduating class of 2009 -- Amanda Bynes is BACK and she is SMELLING THE DAMN ROSES, PEOPLE.
For those of you who have been following the insane, emotional journey of child star Amanda Bynes, you might recall she has had a few, uh... bumpy years.
After shining her way into all of our hearts as the hilarious, goofy actress of childhood hits like the television series "All That" or the ABSOLUTE TRIUMPH of a movie "She's The Man," Amanda stumbled into a familiar child star routine, spiraling out of control and seemingly losing her sense of reality.
It's ok, Amanda! We're not mad! We love you!
However, a series of vehicle-related arrests, public intoxication, tweeting at the President of the United States claiming ownership over the phrase "LOLOL," and this moment at the gym are just a few of the highlights on the Bynes express train and we've all been hanging on for dear life.
So, you can imagine when Amanda took to Twitter, posting the first photo of herself since 2016, the world braced themselves and was delighted by how great she looked.
YES, GORG, YES!
The tweet shows a very happy and healthy Amanda standing next to a massive display of flowers, and boy-oh-boy did Twitter fucking love it.
Some people couldn't believe their eyes.
But most people were just pumped to have their Queen back.
Or, ya know, their goddess...
Or legend...
More than anything, everyone was relieved to see how happy and healthy she looked.
I think I speak on behalf of everyone when I say, Amanda, we're here for you. Please don't leave us again. You keep smelling those damn roses and we'll be right here waiting for you.
Here's hoping this is the first of a series of epic, Byne-tastic (sorry) photo posts.