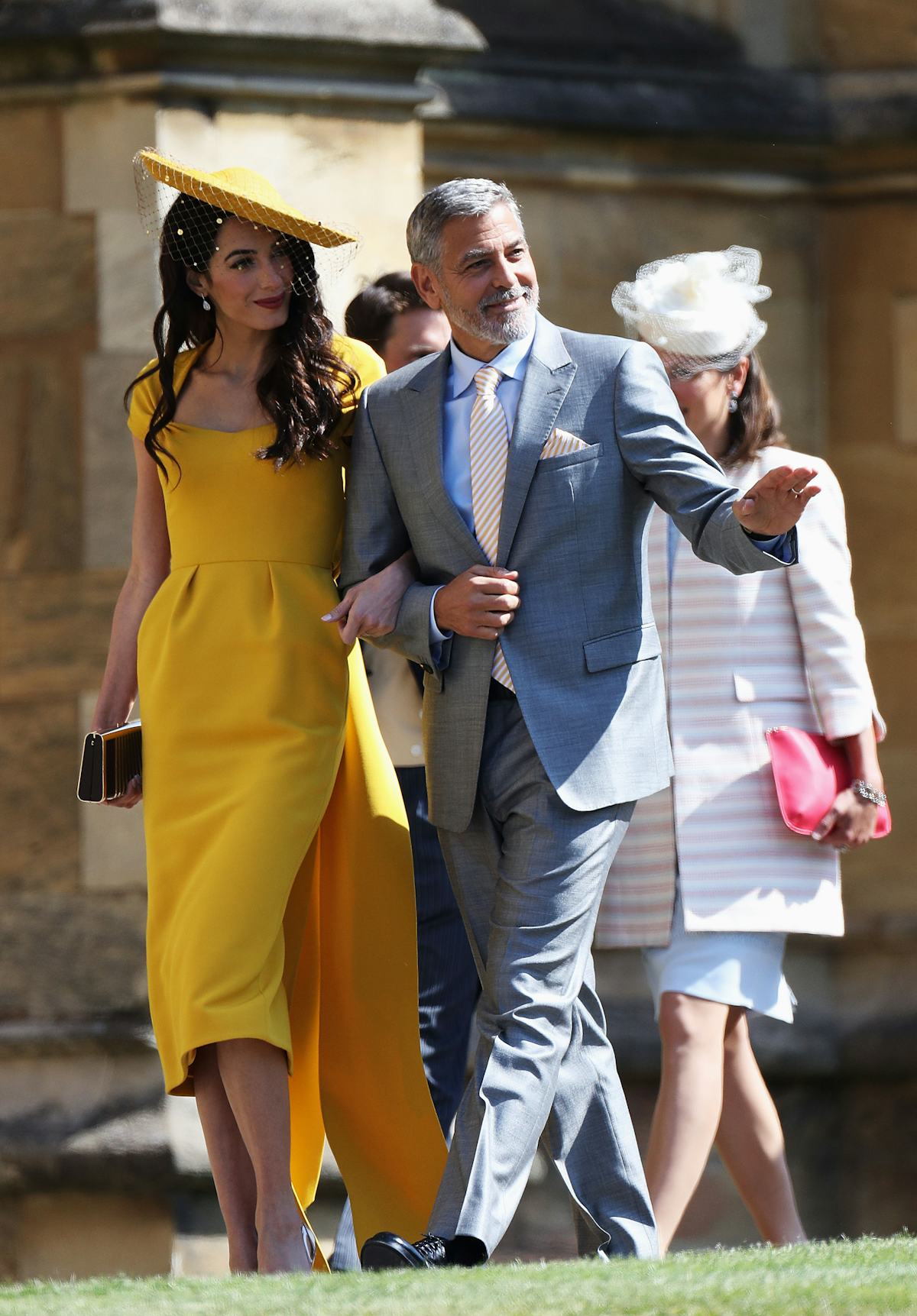 Amal & George Clooney Look So In Love At The Royal Wedding & I'm Swooning
Chris Jackson/Getty Images Entertainment/Getty Images
On Saturday, May 19, celebs and royals from all across the globe gathered to watch Prince Harry finally settle down with American actress Meghan Markle. As is tradition in royal weddings, the crowd is almost more interesting than the wedding ceremony itself, as it's filled with gems — both literally and figuratively. One set of gems who made an appearance at the royal wedding was Amal and George Clooney, who low-key played a vital role in the celebrations.
It was unclear whether the Clooneys would be attending the nuptials, but the world did get a pretty big clue about their possible attendance thanks to a hairstylist. Last month, it was reported that Markle's hair for the wedding would be done by Miguel Perez, a stylist at Salon Slone in London, where his services reportedly run from $252 for a cut and blow dry to $210 for an event style. Perez has a ridiculous client list that, according to Entertainment Tonight, includes the likes of the Victoria's Secret Angels, Lindsay Lohan... and Amal and George Clooney.
"Yes, I do Meghan's hair," Perez told The Mail in April. "I do Amal's, and Meghan is friends with her. I also do George's, I do the whole family. Amal put Meghan and me together when she moved here. I do her color, her cut, and her styling."
From that quote, eagle-eyed readers got two big clues about the Clooney's possible involvement in Prince Harry and Markle's wedding. First, you get the obvious hint that they have at least one thing in common: Perez. Second, you get an indication that Markle and Amal Clooney are friends — at least enough to share hair tips.
Perez has not formally confirmed that he is doing Markle's hair, but luckily for royal-watchers, that's not the only thing Perez had to say about the wedding and the Clooneys. In an interview with Hola!, a Spanish magazine (Perez is Spanish), when asked if he was doing Markle's hair for the wedding, Perez said, "Lo que sí puedo confirmar es que me encargaré del peinado de Amal Clooney ese día."
The English translation of that? More or less: "What I can confirm is that I will be in charge of Amal Clooney's hair that day."
And now, my friends, that was an interesting hint about what Amal's whereabouts would be during the royal wedding.
Underneath their glamorous hair, Amal Clooney and Markle are both rights-minded people. Markle has long been an outspoken feminist and as a biracial, divorced American, her every move within the British royal sphere is inherently political. Clooney, meanwhile, is an international human rights lawyer who has worked at firms in England and in New York, per Vanity Fair. Clooney has worked for high-profile government officials including Ukraine's former Prime Minister Yulia Tymoshenko, former president of the Maldives Mohamed Nasheed, King Hamad bin Isa al Khalifa of Bahrain, and Julian Assange, the founder of WikiLeaks, in addition to serving as a senior adviser to former United Nations Secretary-General Kofi Annan on Syria. Clooney has also been a loud advocate for Yazidi women, who have been targeted by ISIS to be kidnapped and held as sex slaves. Clooney additionally lectured on human rights law as a senior fellow at Columbia Law School's Human Rights Institute.
Prince Harry and George Clooney, meanwhile, also share interests. In 2013, Prince Harry beat out George Clooney to be listed as Town & Country's most popular bachelor in the world. So, they've got that going for them, and with that, I'm sure George has some excellent tips on marriage for Harry.