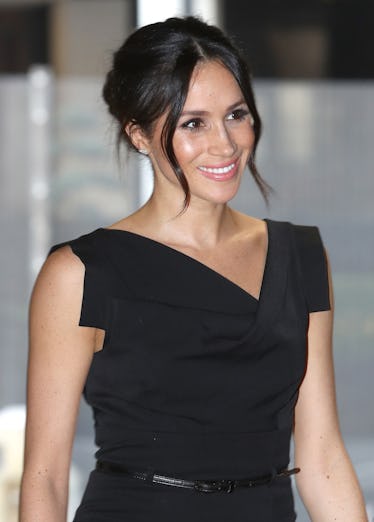 Meghan Markle Is Reportedly Using A Famous Hairstylist For Her Wedding & I'm Jealous
Chris Jackson/Getty Images Entertainment/Getty Images
With all of the royal wedding details falling into place, the thing that I'm most interested in seeing is what Meghan Markle will look like on her wedding day. Will her gown be fitted, or more of a ballgown style? Will she go bold with her makeup, or opt for something more natural? And what about her enviable head of hair? Will she have a head-turning updo, or keep it soft and simple by wearing it down? THE ANTICIPATION IS KILLING ME, you guys! While we don't know any of these details as concrete just yet, Meghan Markle's wedding hairstylist has reportedly been picked, and guess what? He works with mega-famous celebs, so we can expect Markle to have the ultimate wedding day #HairGoals.
According to Entertainment Tonight, Markle is expected to use Miguel Perez, a stylist at Salon Sloane, whose client list includes Amal Clooney and has "worked on everyone from Lindsay Lohan to the Victoria's Secret Angels. His services run from $252 for a cut & blow dry, to $210 for event hair."
Perez reportedly told The Mail, "Yes, I do Meghan's hair ... I do Amal's, and Meghan is friends with her. I also do George [Clooney]'s, I do the whole family. Amal put Meghan and me together when she moved here [to London]. I do her color, her cut and her styling."
Insert the hair-flip emoji girl here, because this stylist must be absurdly good at what he does if he's cutting all of the hair on the entire Clooney family's head.
"We have talked about it [the wedding] and we have a plan," Perez continued. "I can't say any more, but we know what we're doing."
Seriously? That's all you can tell us?! WE WANT MORE! GIVE US MORE!
Please, sir. We need this information more than you'll ever know or understand.
Of course, we're totally left in the dark as far as how Markle will wear her hair, but luckily, we can look at Perez's work on his Instagram, which might give us a tiny bit of insight into how he'll style her gorgeous mane on her wedding day.
Here's a client that Perez styled in loose, beachy waves, something I can totally see Markle re-creating for her big day:
And here's one of his brides with a fantastic, wispy updo:
Or what about this photo of Perez styling retro, finger waved hair:
Want. Need. Gotta have.
Maybe he'll give Markle a gorgeous and full blowout, much like he did for Amal Clooney's hair for her Vogue cover shoot back in May. The options are seemingly endless, but I have a feeling that Markle will somehow end up choosing the perfect style.
While we have a little peek into what Meghan Markle's hair might be on the day she marries Prince Harry, her wedding dress remains a total mystery.
According to Entertainment Tonight's royal expert Katie Nicholl, Markle won't share any information about her wedding dress designer. "I expect that Meghan will go to great lengths to keep her wedding dress designer a secret until the moment that she emerges from the bridal car," Nicholl said, which is equal parts exciting and yet also frustrating for people who hate surprises (like me). She continued:
Let's be honest, this is a girl who knows how to keep a secret. She and Harry kept their romance clandestine for months, so she knows how to stay tight-lipped… There's going to be so much attention on the dress. She's like every other bride in that respect, she wants to keep it a secret up until the last minute.
Nicholl suggested that the dress MAY have sleeves and may have lace, but nothing is confirmed, so don't jump to conclusions just yet. However, Nicholl said that she believes Markle's dress is going to "tick all the right boxes: traditional, elegant, sophisticated, memorable, and fitting."
Amazing indeed, Miss Markle. Amazing indeed.