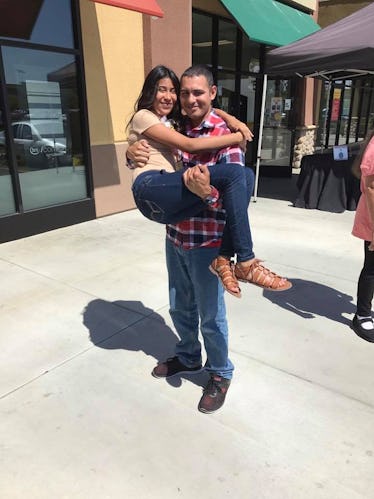 A 12-Year-Old Girl Lost Her Life After She Was Allegedly Misdiagnosed With The Flu
Flu season is upon us, and this year's breakout is unlike any other we've seen. The fatality rate and countless hospitalizations are tragic, and in the midst of the epidemic, it has come to our attention that misdiagnosis may be something we need to be cautious of, as well. Twelve-year-old Alyssa Alcaraz died after allegedly being misdiagnosed with the flu. The preteen passed away on Sunday, Dec. 17, 2017 at the Kaweah Delta Medical Center in Visalia, California.
According to The Washington Post, just 10 days before their daughter's death, Alcaraz's family watched her perform at her school's Christmas concert. The middle schooler had aspirations of pursuing the arts, but also expressed interest in someday becoming a police officer. She was, as her mother, Keila Lino, described to The Washington Post, a "tough little cookie" who was "responsible for her age." The young girl realized that she was unwell and needed to be sent home from school on Dec. 13, when she started to feel feverish and had thrown up earlier in the day.
On Dec. 14, Lino took her daughter to Kaweah Delta Urgent Care in Visalia, California to have Alcaraz's symptoms checked out. People reports it was here that the doctors allegedly misdiagnosed the young girl with the flu, prescribing her ibuprofen, cough syrup, nausea medication, and rest. By Sunday, Dec, 17, it was clear that these medications were not helping Alcaraz recover. Elite Daily has reached out to Kaweah Delta Urgent Care for comment on this story, but did not hear back by publication.
From there, Alcaraz's symptoms quickly grew worse, and she began experiencing shortness of breath. Lino brought her daughter back to urgent care, and it was found that her oxygen levels were dropping. After that, the young girl was rushed to the hospital and diagnosed, this time with meningitis. She died hours later due to cardiac arrest, as well as a strep blood infection, according to Cosmopolitan.
The 2018 flu epidemic has spread across the country, affecting people of all ages.
Most research on the subject suggests that preteens and young adults are generally less at risk of catching the flu than, say, the elderly or very small children. Twenty-one percent of all meningitis diagnoses, however, occur in preteens, teens, and young adults ages 11 to 24, according to the National Meningitis Association, and of the 600 to 1,000 people diagnosed with the disease every year, 10 to 15 percent lose their lives as a result.
There are overlapping symptoms that may lead to someone, even professionals, mistaking meningitis for the flu, such as high fever, muscle aches, and severe headaches. However, medical professionals should take extra precautions to ensure their diagnoses are accurate in order for their patients to receive the proper care they need to recover. This is especially necessary now, maybe more than ever, as the flu is spreading very quickly, causing not only hospitalizations, but death percentages to spike.
Unfortunately, Alcaraz is not the first young person to lose her life to severe illness this season. Over the last month or so, it was reported that a 21-year-old bodybuilder from Pennsylvania named Kyler Baughman passed away as a result of organ failure due to septic shock caused by influenza. A 20-year-old mother from Arizona by the name of Alani Murrieta reportedly died from heart failure in response to pneumonia contracted by the flu. Both of these tragic deaths are unusual and rare, but flu fatalities are on the rise, and it's vital that we all make it a point to become better acquainted with the disease, its symptoms, and the care and protection our bodies need to make it through the epidemic unscathed.
Apparently, flu misdiagnoses happen more often than you'd think.
As a patient, you wholeheartedly want to trust that your doctor has not only your best interest at heart, but pays extreme attention to detail and is knowledgeable enough in their profession to know the difference between one disease and the next. Unfortunately, flu misdiagnoses are not uncommon, and even the best-trained doctors can get it wrong.
Here's the thing: According to Right Diagnosis, doctors come to the conclusion that their patients have the flu based on factors such as health history, an assessment of the patient's symptoms, and a physical exam in correlation with whether or not it is flu season and if an outbreak has attacked the area. Testing is available, but oftentimes inaccurate.
This may sound unsettling, and it is, especially when you consider the fact that flu-like symptoms mimic other diseases as well, so distinguishing between the flu and the countless other diseases the patient could be coming down with can be tricky. For instance, it was reported in May of 2014 that a 10-year-old-girl died after allegedly being misdiagnosed with the flu instead of pneumonia. A year later, the Daily Mail reported Mark Sollis, age 54, was allegedly misdiagnosed with the flu and hospitalized for three months before doctors realized the man was actually battling sepsis, which, according to the Mayo Clinic, is a "life-threatening complication of infection."
It's terrifying to think there might be even the slightest chance that your doctor could misdiagnose your symptoms, but this is an example of just how important it is to really listen to your body. If you feel as though one doctor's opinion doesn't add up, get a second one. Though this is a valid concern, do not hesitate to seek medical attention if you start to feel sick. It truly might save your life.