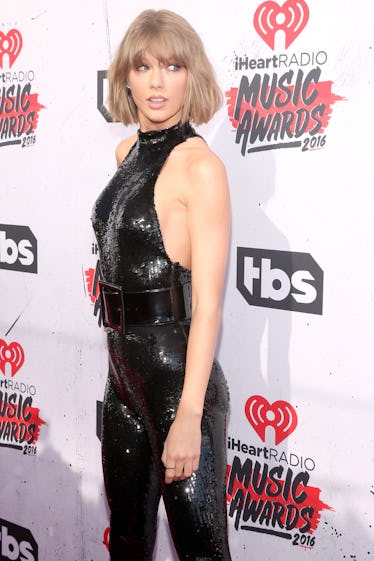 Taylor Swift's Fans Can't Stop Talking About This Shady Line In "Call It What You Want"
Jesse Grant/Getty Images Entertainment/Getty Images
Well wouldn't you know it, here we are again. Taylor Swift just dropped her next huge single and fans have stayed up late waiting with bated breath for the first listen. Well, it's here. And we love it. There is one particular "Call It What You Want" lyric fans can't stop talking about, and we're here to do all the speculation, dwelling, and assuming we can. After all, what good are we if we can't contribute to the Reputation frenzy?
Before we even knew about the shady lyric, we knew something serious was coming. As part of the crazy PR hype train Taylor has had us all riding, she released three images on social media with emotional and romantic "Call It What You Want" lyrics written in typewriter font on her Instagram account. The words read,
Holding my breath / slowly I said / "You don't need to save me... / But would you run away with me?" / ... "Yes"
It was enough to tug at our heart strings without us even knowing why.
Except now, fans can't stop focusing on a different lyric entirely — because everyone is saying it might be about Kim Kardashian West and Kanye West.
On the new song, Taylor starts off by singing about what seems like a time when she was in a bad place. She sings,
My castle crumbled overnight / I brought a knife to a gunfight / They took the crown but it's alright / All the liars are calling me one / Nobody's heard from me in months
Mm-hmm. "All the liars are calling me one" — much like Kim and Kanye did after the famous phone debacle, maybe?
After West released his song "Famous," in which he rapped about maybe-sleeping with Taylor (and included a nude wax figure version of her in the song's music video), Taylor professed herself furious at the mention. When Kanye said that she had given her OK, she denied it all — only to be shown up when Kim brought the receipts, with a cell phone video of Kim and Kanye talking about the song on speakerphone and Taylor saying that the lyric was "like a compliment."
After the showdown, Kim's fans trolled Taylor on social media with snake emojis (which Tay has clearly reclaimed). When you come at Kim K, Kween of social media, you probably did bring a knife to a gunfight. But it's OK, Tay has shade on her side now.
Ironically, even though there's the clear Kimye ref, the song is also totally a love song — which leave fans wondering who the song is about, of course!
Obviously, fans have been pointing to Swift's boyfriend Joe Alwyn who has been officially linked to the Grammy winner since May 2017. Of course, with each new song that's been released on Reputation, conspiracy theorists and die-hard fans alike have been able to find something relating to Alwyn in each track, whether it was intended to be that way or not.
Another great love song on the album is "Gorgeous," in which Taylor describes someone so beautiful she is unable to have a regular conversation with them. In this song, Swift sings:
You're so gorgeous / I can't say anything to your face / Cause look at your face / And I'm so furious / At you for making me feel this way / But what can I say?/ You're gorgeous
She also released an intimate behind-the-scenes video of the writing process for the romantic track, which was released on YouTube early November. In it, Swift is seen sitting behind her piano or strumming her guitar working on the lyrics and melody.
While there is not a direct shout out to Alwyn in either the track or the video, it still seems like the song must be pointing to him.
AT&T released the video on their own YouTube channel with the caption,
Get an unprecedented glimpse into Taylor's songwriting process as she shares personal videos of herself at the piano playing and creating the song "Gorgeous". "The Making of a Song" is a revolutionary new series shot by Taylor herself, coming to Taylor Swift NOW on Nov. 13.
Taylor Swift NOW, for those that are wondering, is a "specially curated video catalog" of Reputation and Taylor Swift content.
AT&T explained in a press release,
[The content] is organized in themed chapters and packed with special glimpses into Taylor's life and work spanning her entire career. This will include original content with commentary from Taylor herself.
Maybe that means more details about who and what "Call It What You Want" is really about. Or maybe it's just more opportunities for Tay to throw in her two cents on the Kimye drama. Either way, I'm here for it.
For now, all I know is we're obsessed, and we can't wait to see what other lyrical gems Reputation reveals on its release Nov. 10.
Check out the entire Gen Why series and other videos on Facebook and the Bustle app across Apple TV, Roku, and Amazon Fire TV.