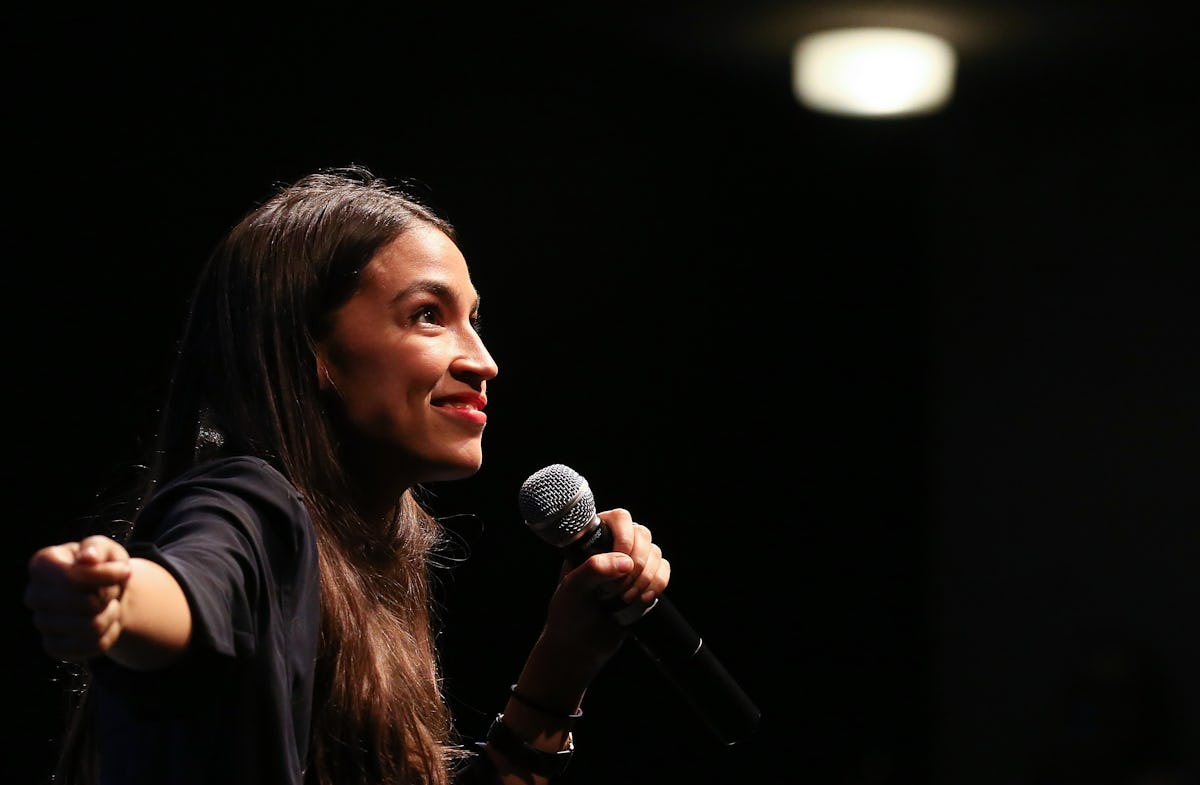 Alexandria Ocasio-Cortez's Instagrams About Her Orientation To Congress Are Fascinating
Mario Tama/Getty Images News/Getty Images
For a while, it truly felt like the 2018 midterm elections would never end. Well, fast forward over a week later and it looks like those elected to Congress are in Washington, D.C. for a very special occasion. If you're like me, you're probably dying to know about the inner workings of Congressional orientation. Well, lucky for us, Alexandria Ocasio-Cortez's Instagram about her orientation to Congress is the inside scoop we crave. Class is officially in session.
On Tuesday, Nov. 13, a number of freshman Representative-elects landed in Washington, D.C. to attend the week-long congressional freshman orientation. Even though many of us are completely oblivious to what happens during this intensive conference, 29-year old Alexandria Ocasio-Cortez is sharing the process through her Instagram story. According to the new Representative-elect, Congress' freshman orientation is pretty similar to any orientation, which includes picture-taking, lots of paperwork, and of course lots of speeches.
On Thursday, Nov. 15, Ocasio-Cortez took to Instagram to share a few highlights of orientation with her followers. Not only did she, along with her fellow Representative-elects, pose for their freshman class picture, but the attendees were all given a manual concerning their first 60 days in office, which includes budgeting, hiring, making plans, etc. So according to Ocasio-Cortez, the new members of Congress will only have two months to set up their office and their team before their swearing-in ceremony. Yeah, no pressure.
Obviously these new faces to Congress have a lot on their plates at the moment, but thankfully for them there's a few fun traditions to enjoy while attending orientation. During the week-long seminar, Ocasio-Cortez shared clips of her taking her voter card I.D. picture as well as the freshman class photo. Plus, a very necessary (and adorable) trip to get some delicious post-politics snacks. Seriously, it makes me want to go back to college (or go to Congress).
On Tuesday, Nov. 6 Ocasio-Cortez made history when she secured her bid to represent New York's 14th District in the U.S. House of Representatives. As a 29-year old politician, Ocasio-Cortez will be the youngest woman to ever serve in Congress, which is a pretty big deal. As a part of New York's 14th Congressional District, Ocasio-Cortez will represent the eastern Bronx borough and a part of north-central Queens neighborhoods.
But even though she may be in D.C. at the moment, it's safe to say that this millennial politician hasn't forgotten what she went there for. According to Ocasio-Cortez's Instagram story, she's been protesting Amazon.com headquarters' controversial move to Queens, and has been openly talking about the money given to Amazon via tax breaks should be going to other outlets such as schools, public transportation, etc. She also boosted a local trail cleanup taking place in the Bronx on Saturday, Nov. 17.
Clearly Ocasio-Cortez is killing it at freshman orientation, but unfortunately she's still facing obstacles despite her highly publicized electoral win. According to a Wednesday, Nov. 14 tweet, Ocasio-Cortez has been mistaken for an "intern" and "spouse" while attending the freshman orientation. This not only spotlights that there's still a huge gender inequality among men and women in politics, but supports the perception that a "congressperson" fits into a specific stereotype: white, older, and male. However, it's reassuring to know that Ocasio-Cortez isn't letting that get her down and she still has her eye on the prize.
Social media may be distracting at times, but in this case I've never been so thankful for Instagram. Please never stop posting, congresswoman.