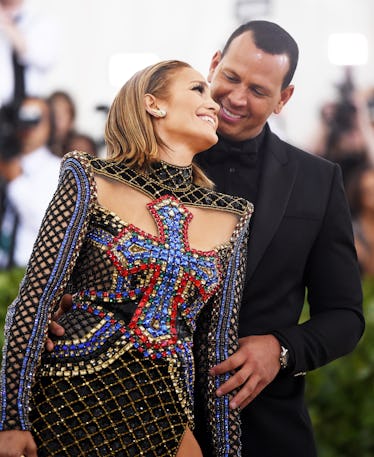 Jennifer Lopez Hinted About Getting Engaged & A-Rod Had An Awkward Response
Pop star Jennifer Lopez, 48, and retired MLB star Alex Rodriguez, 42, have only been dating since March 2017, but Lopez seems ready to take the next step in their relationship. Almost as soon as she premiered her new single "El Anillo" at the 2018 Billboard Latin Music Awards, fans picked up on the song's apparent meaning. It appears that "El Anillo" may be more than just a catchy track. The song's Spanish title translates to "The Ring" in English, and Lopez doesn't mean on the phone. When asked about it, Alex Rodriguez's quotes about marrying Jennifer Lopez were adorably awkward.
As context for those of you who, like me, haven't practiced your Spanish verb conjugations since high school, People translated the all-Spanish song's not-so-subtle pre-chorus into English. Lopez's Spanish language lyrics translate to: "I have never felt anything this grand/And your wild side drives me crazy/You've given me so much that I've been thinking/I already have it all, but/When will I get the ring?"
Lopez addressed the rumors that the song is a hint for Rodriguez to pop the question by explaining that she didn't write the hit herself. She told ET Online:
Listen, I didn't write this song. Somebody wrote it for me specifically, which I thought was really funny. Not because I'm thinking of doing anything like this, but because it's a funny thing and I played it for Alex and I was like, 'Are you cool with this? I think it's kind of funny.' He's like, 'Yeah, I'm totally cool with it.' So at the end of the day, it's a great song with a Brazilian funk beat to it and I just loved it. I could just see myself dancing in the video.
Speaking of the music video, you can watch it (and hear the full song) below.
OK, so maybe the track isn't meant to be seen as a serious plea for an engagement ring, and Lopez is taking some artistic license. Either way, people are still asking her the same questions. Lopez spoke again about the lyrics during a recent appearance on The Tonight Show, this time in a bit more depth. She told Jimmy Fallon:
It was kind of something that all women get to a point where they say, 'OK, what's up? We're good, everything's great, what's going on? Am I staying or am I [going]?
The stunning couple, who made their official red carpet debut at last year's 2017 Met Gala, walked the carpet together again during this year's Ball. Lopez looked gorgeous in an on-theme Balmain gown, while Rodriguez opted for an elegant, all-black ensemble.
The night after Lopez was a guest on The Tonight Show, Rodriguez made his own appearance on the show. Naturally, Fallon asked for A-Rod's opinion on his girlfriend's possibly pointed lyrics.
The former professional baseball player told Fallon:
I know nothing about music. I read the song and I go, 'Babe, it sounds like they're talking about us.' And she goes, 'Yeah! They made it for me.' I heard it for the first time and I knew it was going to be a smash the first time I heard it.
Not one to let a celeb off the hook that easily, Fallon continued the conversation by saying:
Oh, it's a giant hit, but now everyone's probably going to ask you, 'Where's the ring?' Where is it? Are you thinking about it?
Rodriguez answered honestly:
I wasn't thinking about it. When it happens, Jimmy, you'll be the first to know!
We'll be waiting anxiously for Fallon's... I mean, Lopez and Rodriguez's big announcement. As long as this adorable couple is happy and in love, though, that's all that matters.