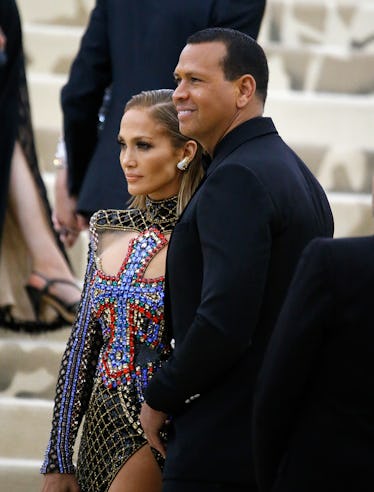 Jennifer Lopez Just Opened Up On If She's Ready To Marry Alex Rodriguez & OMG
John Lamparski/Getty Images Entertainment/Getty Images
Jennifer Lopez is no stranger to love. At 48 years old, the actress and singer has seen her fair share of relationship woes. But none of that has soured her perception of romance. In fact, she's still wide open to the idea of marriage, even with her current beau Alex Rodriguez. So, will Jennifer Lopez marry Alex Rodriguez? If her recent comments to Jimmy Fallon are any indication, then she may just be ready for an engagement ring!
Lopez recently appeared on The Tonight Show to promote her new Spanish language single, "El Anillo." In her conversation with Fallon, Lopez explained that her new song is all about getting engaged. When Fallon called out Rodriguez on air, Lopez jokingly chimed in:
No pressure! The song is definitely about that, it is, but I felt like it was kind of something that all women get to a point where they say, 'Ok, what's up?' Like, we're good, everything's great, what's going on? Am I staying or am I going?
Hm, it sounds like Lopez is definitely ready for that ring. Rodriguez had better have his act together. Just kidding!
Lopez and Rodriguez have been dating for just over a year. The couple made their official red carpet debut at the 2017 Met Gala. They walked the carpet again as a couple during the 2018 Met Gala. They looked pretty awesome doing it, too:
Lopez's Balmain dress was incredible and Rodriguez looked super suave in an all-black tuxedo.
In her interview with Fallon, Lopez explained that she knows relatively early in relationships whether her partner is The One. But she warned the audience not to heed her advice, as she's only human and could be wrong:
I feel like you know fairly quickly, so the rest is just you being scared and whatever. But don't go by me! I've made tons of mistakes.
Lopez has been married three times, most recently to singer Marc Anthony, with whom she shares two children. She's also enjoyed a number of long-term relationships with people like Ben Affleck and Casper Smart. In spite of her history of heartbreak, though, Lopez still believes in love and her relationship with Rodriguez is solid proof.
She's even changing the way she thinks about baseball to accommodate Rodriguez's busy schedule:
It is baseball day and night, night and day. I'm like, 'Baby, what time you think you're going to be home?' He goes, 'Well, right now I'm kind of in the seventh inning of the meeting.' He's like, 'Keep your head in the game!'
Aw, it's so sweet that she's learning the ropes and understanding how the game applies to all aspect of Rodriguez's life.
As for that ring she seems to be waiting for, there's no word yet on when that will make an appearance. For now, Lopez is happy letting other couples take the spotlight, like rapper 2 Chainz and his longtime girlfriend Nakesha Ward.
Fallon actually asked Lopez what she thought about 2 Chainz's proposal at the 2018 Met Gala, which happened right on the red carpet. Lopez prefers her love to be a little bit more personal and low key:
I think I would want it to be a tiny bit more intimate. But you know what, this is amazing, I'm sure she had a Cinderella moment.
It makes total sense that Lopez would want a proposal that's a bit more intimate. She's always been relatively private, so it's completely understandable.
Whether she'll receive an engagement ring from Rodriguez remains to be seen. I'm sure Rodriguez knows the world is waiting and watching for that to happen. But as Lopez said on The Tonight Show, no pressure!