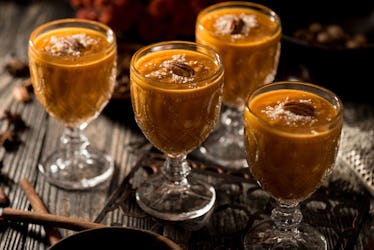 You Can Buy This Pumpkin Spice Liqueur To Upgrade Your Favorite Fall Sips So Soon
PSLs are great and all, but there's nothing like a pumpkin-flavored cocktail to bring on the "boos." In fact, sipping on festive drinks is one of my favorite things to do when autumn comes around (next to cuddling in flannels and watching Hocus Pocus on repeat). That's why I'm so excited about a pumpkin spice-flavored liqueur that's about to hit the market. Start planning your October cocktail hours, because Aldi UK's Pumpkin Spice Liqueur is coming for Halloween season.
If you're anything like me, you probably already have your bar cart ready. I don't blame you, though; this is a huge deal. It's obvious that pumpkin spice is delicious, but boozy pumpkin spice must be even tastier. Before you get too excited, though, you should know that Aldi's Pumpkin Spice Liqueur is being released in the United Kingdom on October 4, 2018, per Good Housekeeping. So, you might have to travel in order to try a sip — but I have a feeling it'll be worth it.
If you're not trying to cross the pond for a shot of pumpkin spice-flavored booze, you can wait patiently for the bottle to hit stores in the United States. According to Delish, a U.S. version of the bottle might appear in stores, so cross your fingers and hope for the best.
In the meantime, I'll tell you a little bit more about the drink, starting with its price. Apparently, the entire bottle will sell for £6.99 at Aldi when it becomes available. That's only about $9, which is pretty dang cheap for a bottle of liqueur. In fact, that's even cheaper than my favorite bottle of red wine... so I guess I'm gonna have a new favorite drink this fall.
What can you drink it with, though? Apparently, Aldi suggests sipping it on ice or adding it to your PSL. Of course, I'd advice against adding a shot of liqueur to your morning cup of coffee — but adding a splash during happy hour sounds lovely.
Regardless of how you consume it, drink responsibly.
If you aren't sold yet, the product's description might convince you to give it a try. Per Good Housekeeping, the description says,
Aldi's beautifully rich and creamy liqueur has been infused with classic Pumpkin Spice flavours, and is balanced by hints of cinnamon and nutmeg. A wonderful sipper for the colder months, enjoy this liqueur on its own over ice, or alternatively, add it to the iconic Pumpkin Spice Latte for an extra kick.
I don't know about you, but I am so ready for a sip.
If you're craving Aldi's Pumpkin Spice Liqueur, go ahead and take a trip to the United Kingdom in October. Or, you can wait and see if Aldi stores in the United States will start selling a similar version of the booze.
While you're waiting, you can finally sip on a non-alcoholic fall favorite: Starbucks' Pumpkin Spice Latte. The drink finally became available on Tuesday, Aug. 28, and it's the perfect kickstart to autumn. I already ordered one (despite the 90-degree weather), and I can't wait to drink another. Maybe I'll even get to try it with Aldi's Pumpkin Spice Liqueur in the near future. A girl can dream, can't she?