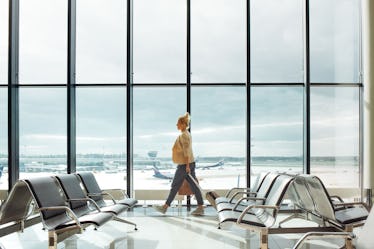 European Airports Will Soon Have Nap Pods With Netflix & Jet Lag Never Sounded So Sweet
If you've ever traveled by plane, then you're probably familiar with the discomfort that is sitting in the airport for long stretches of time when your flight is delayed. It's usually crowded, not to mention noisy, and no matter what airport you're in, the seats at each gate tend to leave a little something to be desired. Well, if you live in or are traveling through Europe any time soon, this may not be an issue anymore in the next year or so. According to Travel + Leisure, nap pods are coming to European airports, so you can literally Netflix and chill, all by yourself, all while you kill time during that seven-hour layover.
Basically, airports throughout Europe are planning to offer these cozy little capsules called Airpods, which look eerily similar to something a Jedi would use for travel in Star Wars. These pods are meant for naps and total relaxation between flights, and they'll apparently be located right in the middle of the dang airport. At the moment, these Airpods are still in beta testing, according to The Daily Mail, but the outlet says there are plans for "a commercial trial" sometime in the fall of 2018. And, after launching in Europe, these pods might just be available, one day, all over the globe, my friends.
"Our aim is to improve and make travel experience comfortable and enjoyable each and every hour, whilst transiting," the Airpod creators wrote on the brand's website.
The website also says that Airpods are "more than just a sleeping pod providing deserved rest." These babies are meant to offer "comfort and entertainment to the tired traveller looking to relax and unwind for a few hours."
And listen, when you're renting one of these pods by the hour, you don't have to nap if you're not tired. Airpods also offer you a place to simply hang out and enjoy some alone time, or even a chance to catch up on your work with some actual peace and quiet, as they're designed with free wifi, air-conditioning, and a place to store your personal items safely while you wait for your flight. It sounds like a dream, especially when you're used to being curled up in the corner of a flight gate, trying to read your book next to a crying baby, you know?
These little capsules, which you can kind of think of as your own personal paradise in the otherwise hellish environment that is a typical airport, also come with Netflix access, a place to charge your devices, a check-in device, and they can keep you updated on your flight info, according to the Airpods website.
Plus, if you're concerned about hygiene from all the past Airpod dwellers who enjoyed some R&R before your time in the capsule, don't be. The Airpod creators wrote an article for Medium back in March, and in that piece, they explained that they take care of all the cleaning "by implementing Self-disinfection LED system in the AirPod." They elaborated on this fancy-sounding technology,
LED produces a high quality white light that also provides continuous disinfection through precisely engineered wavelengths of visible light.
The brilliant invention of the Airpod comes from the minds of two Slovenian businessmen, Mihael Meolic and Grega Mrgole, who are both frequent travelers themselves.
Basically, according to The Daily Mail, Meolic and Mrgole recognized the near-universal need to have a little more alone time and a lot more R&R during flight layovers.
Mrgole said the vision for the Airpod is "to improve travel experience overall," and to me, it sounds like these guys are already accomplishing that goal with flying colors.
Now, in case you didn't know, this actually isn't the first time naps have been used as a business model in this way. As Travel + Leisure reports, there are already nap pods like this at places like the Helsinki airport and in Moscow. What's more, in New York City, there are nap spaces for rent at places like Nap York to support the weary traveler, or even the average person in need of a midday snooze.
We all have to rest, you guys. So why not do it in something that looks like a tiny spaceship?