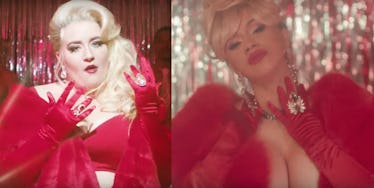 Aidy Bryant Channeled Cardi B In This 'SNL' Skit, & Twitter Is Screaming
Saturday Night Live really put their musical guest Cardi B to work on Saturday, April 7. In addition to her two musical performances, the singer appeared in Aidy Bryant and Cardi B's SNL skit where Bryant turns into "Aidy B" after listening to Cardi B's music (as you do). Even though Cardi B fans are mostly living for the fact that the singer confirmed her pregnancy during her last performance of the night, they are also very much loving her cameo in Braynt's sketch.
The "Aidy B & Cardi B" sketch opened with Bryant, Cecily Strong, and Kate McKinnon talking about how much they love Cardi B and her new album Invasion of Privacy. They continued to fangirl over the singer as Strong said, "I love like how assertive and bold she is. She just like says whatever she's thinking." Bryant agreed with Strong, and then she said, "I know. I think I need to be more like Cardi B." After that, Bryant turns into Aidy B and begins channeling Cardi B in her everyday interactions.
Following Bryant's revelation to be more like Cardi B, she tells her fellow SNL cast member Beck Bennet to "shut your h**-*ss up" after he mockingly asked if the women were having "girl time," and then it's all Aidy B from there.
Bryant's Aidy B went fully into Cardi B character, and she even donned a red outfit similar to Cardi B's in her "Bartier Cardi" video. Aidy B warded off nerves she had about meeting host Chadwick Boseman by telling the Black Panther star, "I'm not afraid of you, b*tch," and then Aidy B performed some moves from the "Bartier Cardi" video on a desk in the SNL office, which led Keenan Thompson to ask Mikey Day, "Dude, what the hell is going on with Aidy?" Day replied, "I think she's empowered?" Apparently, Cardi B will do that you.
The empowered Aidy B finally meets Cardi B at the the end of the sketch and tells Cardi B how much her music means to her. Cardi B showed off her comedy chops as she delicately let Bryant know that the two probably aren't going to be best friends (as Bryant suggested they might be). After watching the sketch, though, I'm really hoping that these two become real-life pals because they are the comedy duo you never knew you needed.
Twitter is very much here for Aidy B and Cardi B, and people are showing all the love.
"When Aidy B met Cardi B."
"Best sketch of the night!"
"Lil' Aidy B leveled up to Aidy B and I'm here for it. Okurrrrrrrrrrrr!"
"This had me dying last night."
"Pretty much exactly how I would handle meeting Cardi B."
"Cardi B is refreshingly funny. (goes without saying that Aidy is a hoot!)"
"Damn!! That last part! The Cardi laughter."
"...her everything just killed me."
"I love them both!"
"This was epic, so funny!"
Not only did Cardi B prove she knows how to make you laugh, but she also surprised her fans when she showed off a baby bump during her "Be Careful" performance, confirming she's expecting a baby with her finacé Offset from Migos.
I'd say it was a pretty successful SNL debut for the singer, and from all the lover her comedy performance is getting on Twitter, it would be great to see Cardi B back to host the show one day (here's hoping). But until then, you can get your Cardi B fill by keeping up with her during this exciting time as she prepares for her first baby. The couple hasn't revealed if they're expecting a boy or a girl, but you can get hyped about the possibility of a mini Cardi B if it's a girl!