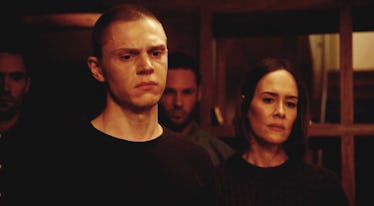 'AHS' Season 8 Just Added 2 New Actors & You've Probably Seen Them Before
FX
The mystery of American Horror Story Season 8 is finally starting to clear up little by little, and that includes the reveal of two brand-new cast members. Pretty much everyone who has been announced to star in the upcoming season is a veteran of Ryan Murphy's horror anthology franchise, but the latest announcements are adding some new faces to the cast. AHS Season 8 has added Jeffrey Bowyer-Chapman and Kyle Allen as guest stars, Deadline has confirmed, although the characters that they will be playing are still a mystery.
Jeffrey Bowyer-Chapman and Kyle Allen join Joan Collins as the three actors announced to appear in American Horror Story Season 8 who have not appeared in a season of the show before. But while Collins is reportedly part of the main cast, playing the grandmother of Evan Peters' character, Bowyer-Chapman and Allen are being billed as guest stars. The two newcomers join a cast filled with AHS returnees: Evan Peters, Sarah Paulson, Kathy Bates, Emma Roberts, Adina Porter, Cheyenne Jackson, Billy Eichner, and Leslie Grossman.
Rumors about Jeffrey Bowyer-Chapman and Kyle Allen's casting began online after a leaked photo from the AHS Season 8 set showed two chairs with the actors' names written on them. The leaked photo also seems to confirm the fan theory that Season 8's theme will be "Radioactive," as a radiation symbol can be seen next to the series title on the chairs.
Jeffrey Bowyer-Chapman is best known for his role as the reality television producer Jay on UnREAL. He has also appeared in the Zac Efron movie Dirty Grandpa and as a repeat judge on RuPaul's Drag Race.
Kyle Allen is best known for starring in the Hulu series The Path. He also starred in the drama 1 Night and horror flick XX.
While Jeffrey Bowyer-Chapman and Kyle Allen's roles are still being kept under wraps, we are actually getting a lot of information about the upcoming eighth season of American Horror Story. Ryan Murphy has confirmed that Season 8 will be set in the near future, and that it will include a crossover between Season 1 (Murder House) and Season 3 (Coven). In that vein, Emma Roberts confirmed she will be reprising her Coven character Madison Montgomery, along with Sarah Paulson playing her Coven role of Cordelia Goode along with a new part.
New set photos have also been leaking online, which are giving fans their first looks at some of the new characters. Leaked photos from production show Evan Peters with short, platinum blonde hair and an ascot around his neck. He will reportedly be playing a hairdresser in the new season. Another leaked set photo shows Leslie Grossman and Billie Lourd in eccentric clothing, suggesting that their characters will perhaps be connected.
As of right now, that is all we really have to go on when trying to figure out this new season. Hopefully we will get some more info soon! American Horror Story Season 8 will premiere Wednesday, Sept. 12 at 10 p.m. ET on FX.