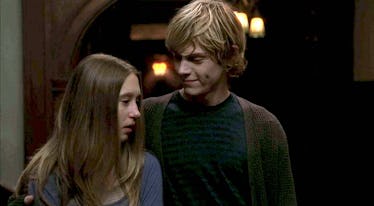 These Two Iconic 'AHS: Murder House' Characters Will Be Back For 'Apocalypse'
FX
The Murder House is filling up once again. Over the past few weeks, American Horror Story showrunner Ryan Murphy has confirmed the return of nearly every star from past seasons Murder House and Coven for the upcoming crossover season American Horror Story: Apocalypse, and now we finally know that two of Murder House's central residents will be back as well. Murder House leads Violet and Tate will be back for Apocalypse, so get ready to see a lot more Evan Peters and Taissa Farmiga this season, because they will both be back for multiple roles.
Over the weekend, Ryan Murphy confirmed that both Taissa Farmiga and Evan Peters would be reprising their AHS: Murder House characters of Violet Harmon and Tate Langdon in Apocalypse by posting a photo of the two in character. Of course, they were both on location within Season 1's iconic Murder House, since the Murder House season ended with Violet dying in the house and Tate revealed to be a ghost confined to the house as well. Now, the two young lovers are both ghosts still trapped within the Murder House, along with Violet's parents Ben (Dylan McDermott) and Vivienne (Connie Britton), who are both also confirmed to be reprising their roles for Apocalypse. Ryan Murphy teased Violet and Tate's fate by captioning the new pic: "Tate and Violet. Together forever?"
Taissa Farmiga and Ryan Murphy shared some more behind-the-scenes photos of Violet and Tate's return to American Horror Story:
But Violet Harmon and Tate Langdon will not be the only characters that Taissa Farmiga and Evan Peters will play in American Horror Story: Apocalypse. Peters is also confirmed to play a new character, who has been described as a hairdresser who is the grandson of Joan Collins' new character. For her part, Farmiga is also going to reprise her Coven role as the witch Zoe Benson. Peters also appeared in Coven as the Frankenstein-ed frat boy Kyle Spencer, but there is no word yet on if Kyle will return or not.
The confirmation that Violet and Tate will return for Apocalypse is the latest in a string of Murder House characters confirmed for the new season. A couple weeks ago, Ryan Murphy said that Jessica Lange will return as Tate's mother Constance Langdon, Sarah Paulson would reprise her role as the psychic Billie Dean Howard, and Cody Fern will play an adult version of the antichrist child Michael Langdon. Later, Dylan McDermott and Connie Britton were also confirmed to bring back Ben and Vivienne Harmon.
American Horror Story: Apocalypse is also bringing back most of the main cast from its third season, Coven, including: Emma Roberts as Madison Montgomery, Sarah Paulson as Cordelia Goode, Lily Rabe as Misty Day, Gabourey Sidibe as Queenie, Taissa Farmiga as Zoe Benson, Frances Conroy as Myrtle Snow, and Stevie Nicks as a fictionalized version of herself. It is still a mystery how all these Coven and Murder House characters will interact in the new season. American Horror Story: Apocalypse will premiere on FX on Wednesday, Sept. 12.