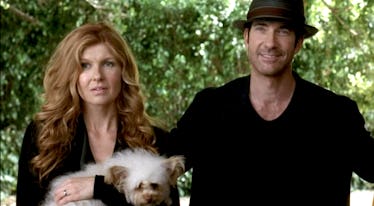 'AHS: Apocalypse' Just Cast The 2 'Murder House' Stars We Have All Been Waiting For
FX
After seven seasons away, the couple that started the whole American Horror Story saga will finally return for the show's eighth season. While most AHS stars are known to come back to the series in multiple seasons, Murder House leads Connie Britton and Dylan McDermott have never returned to the anthology series since they starred in Season 1... until now. Connie Britton and Dylan McDermott will return for American Horror Story: Apocalypse, TheWrap has confirmed, and it is the news that every AHS fan has been waiting years to hear.
Although it has not yet been officially confirmed who Connie Britton and Dylan McDermott will be playing in Apocalypse, it is safe to assume that they will be reprising their roles of Vivien and Ben Harmon from Murder House. After all, we know that Apocalypse is being teased as a crossover season between Murder House and Coven, and the new report claims that both actors are filming their scenes for the new season on location at the "Murder House" from Season 1 itself. Some leaked photos from the production confirm that McDermott has already been filming at the Murder House, making it even more evident that he will be playing Ben Harmon.
It is less clear if the Harmon's daughter Violet will make an appearance in the new season or not. Ryan Murphy did confirm that Taissa Farmiga is in the Apocalypse cast, but implied that she would be playing her Coven role of Zoe Benson by announcing her casting alongside primarily Coven actresses. Farmiga further confirmed that her involvement is Coven-related by responding that she would be dusting off her witch hat.
Then again, Taissa Farmiga could end up pulling double duty by playing both Violet and Zoe. After all, Sarah Paulson is confirmed to do just that: reprising both her Murder House and Coven roles while also playing a third, new character. Paulson gave fans a first look at her new character, named Venable, in a sweepstakes announcement video:
So while Violet Harmon is still a question mark, fans can now rest assured that at least Vivien and Ben Harmon will be back at the Murder House in American Horror Story: Apocalypse. The two characters will join a couple of other Murder House characters confirmed to return for the new season: Jessica Lange will bring back Constance Langdon and Cody Fern will play a grown-up version of Vivien's demonic son, Michael.
In case you need a reminder on how Murder House ended, the entire Harmon family died within the walls of the Murder House after Vivien gave birth to twin sons, with only Michael surviving. Because of how the house works, that means that Vivien, Ben, Violet, and Michael's born-dead twin brother, Jeffrey, are now ghosts unable to set foot outside of the house... which explains why Connie Britton and Dylan McDermott need to film their scenes in the Season 1 house. Fans are speculating that as the antichrist, Vivien's son Michael will be at the center of the new season's eponymous apocalypse, which could definitely color Vivien and Ben's return to the show.
American Horror Story: Apocalypse will premiere on FX on Sept. 12.