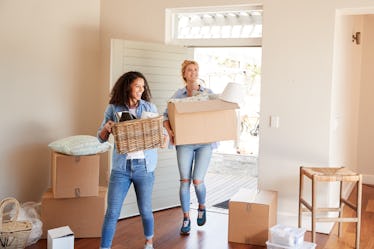 4 Red Flags You Can See After Moving In Together, So Watch Out
Shutterstock
If you and your partner are totally in love and ready to take the next step in your relationship, it's probably because you're on the same page about most things. Still, after moving in together, it's totally natural for some unforeseen challenges to arise. You never know what it's like to truly live together until you do. Whether your partner is unable to put their dirty clothes in the hamper, or if they're always eating all the groceries but never going food shopping, sometimes domestic bliss means feeling domestic ballistic.
"When you move in with someone, a certain amount of tension is to be expected," Pricilla Martinez, CEO of Regroop Online Life Coaching tells Elite Daily. "As you're getting to know one another's boundaries under the new parameters of living together, you may learn things about your partner you didn't realize before. It gives you the opportunity to witness their habits and sometimes those habits can be triggering."
According to Martinez, after making the joint-move, partners may have trouble really feeling at home or may feel like their space is being invaded. Although taking this step can be exciting, Martinez shares that it's completely common for the transition to be a little rocky. Here are four things to look out for after you move in with your partner.