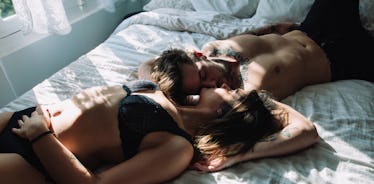 What Happens To Your Body The First Time You Have Sex After A Long Dry Spell?
Dry spells can happen for many reasons. You just got out of a long-term relationship and you don't want to put yourself back out there, you're not lucking out on the dating scene, or you simply... don't want to have sex for the time being. There are also reasons related to trauma that people may be avoiding having sex, which is definitely understandable and OK. Whatever your reason is for having a dry spell, if or when you want to have sex again, there may be some physical side effects due to that sex break. No matter how long you're taking a breather from sex, there may be things your body has to get used to again when you get back to doing it. After a dry spell, it's completely normal for your body to readjust to having sex with some minor side effects.
I spoke to Mary Jane Minkin, MD, Clinical Professor of OB/GYN at Yale University and Founder of MadameOvary.com, about symptoms people with vaginas can feel when having sex again after a dry spell, and how to address those issues for a more comfortable and fun sexual experience. Here are her tips and advice.