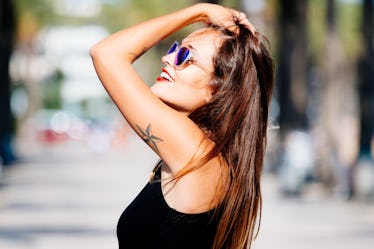 23 Ways To Feel Sexy When You're In A Dry Spell
Susana Ramírez
Look babes, darlings, kittens, vixens, girls, gay boys, women and everyone in-between -- I wish I could tell you that because you're such a wildly unique, stunningly beautiful, exotic creature of this bland, dull world, you will never experience a dry spell. You will always be ripe for the plucking, even when you're single and heartbroken.
But alas, that's simply not true. Yes, you're insanely pretty/handsome, but even the most glittering gods and goddesses have sexual dry spells. It's just part of living, baby.
One time, I had a dry spell that lasted a fucking year. Let me reiterate: I, Zara Barrie, went a YEAR not only without sex and oral sex, but without gropes, affection, cuddles, feel-ups, or kisses (OK, maybe there were a few wasted kisses peppered in, but drunk dance floor kisses don't really count).
Was it that I couldn't pull? Girl, no. We can all pull if we really want to.
I just wasn't into it. I was heartbroken and seeing a pretty badass therapist, trying to rebuild my broken life, and knew I was too vulnerable to withstand a one-nighter.
I had dealt with all of my pain prior to that by abusing pills, alcohol and people, so I was trying to ~feel~ things without any of my usual crutches. I knew I would just use sex as a filler because of my fragile mental state, and I didn't want to do that. So I laid off getting laid.
And let me tell you, for a sexual being, it was a challenging moment in my little life. I feared losing my sexuality because I feel like my creativity is cultivated through my sexual energy.
But I also knew I had to stop using people like drugs, so I had to find a way to stave off the sex without losing my sexual prowess.
It was no easy feat, but I learned a ton about being independently sexual. Because sex is present in many things, like food, scent and art. And most importantly, sex is present within yourself, and you don't always need a warm body to express that part key of yourself. You can do it alone.
Here are 23 ways.
1. Go to a sex shop and buy the most indulgent, expensive, multi-speed vibrator they have. I'm telling you, a good vibe is critical to staying sexual when you're staving off the sex.
2. Read erotica. Old school, sexy erotica. It will kick up your sexual imagination and give you the plot line that porn does, but allow you to paint a picture of who these people are and what they look like.
3. Eat the most indulgent ice cream sundae you've ever laid your keen eyes upon. Make sure it's dripping wet with chocolate, CHERRIES and whipped cream. Licking whipped cream is highly, highly sexual.
4. Wear lace underwear all the time.
5. Except when you wear no underwear at all.
Wear lace underwear all the time. Except when you wear no underwear at all.
6. Drink a glass of champagne in bed before you go to sleep. Something about sweet, succulent bubbles sifting down your throat is really, really SEXY.
7. Pierce your nipple. Don't tell anyone. It's your sexy secret.
8. Get acupuncture.
9. Give yourself a ton of mind-blowing orgasms with your own hands. Remember, the power of the orgasm is in YOUR HANDS ALONE, baby.
10. Buy a plush, velvet journal, go to a bar by yourself and write out your most vivid sexual fantasies, right there in public.
11. Wear a lot of red.
12. Wear a lot of black sheer (any other color sheer can look trashy if you don't have inherent taste).
13. Get a below-the-belt tattoo of your favorite word.
14. Go braless.
15. Eat oysters and wash them down with a vodka martini, by yourself, on a Sunday, while gazing into a sparkly, glittery ocean.
16. Set up a date and blow it off to get down and dirty with your gorgeous self.
17. Invest in some expensive, high thread count sheets.
18. Skip wearing tights and opt for thigh highs. I always do this when I'm feeling vulnerable because it makes me feel like a low-key power babe.
19. Listen to a lot of Fiona Apple. Her raspy voice is hyper-sexual in a very independent way.
20. Treat yourself like you're a gem. Never talk down to yourself during this time.
Treat yourself like you're a gem. Never talk down to yourself during this time.
21. Take a hot, steamy bath every single night.
22. Follow your lush bath by lathering your body in rich creams.
23. And most importantly: Sleep with a black, silk eye mask every single night.