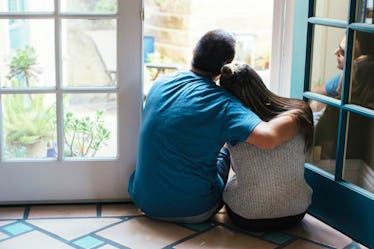 5 Wise Pieces Of Advice From Dads About Marriage That Are Better Than A Hug
We all know that moms can often save the day with some sound advice — particularly in matters of the heart. But let's not forget about the unsung heroes in this department: dads. Indeed, a father can sometimes come in just as clutch with a pearl of wisdom you end up referring back to time and again. Specifically, let's talk about the wise advice about marriage they may be able to provide. Perhaps your father has been through marriage himself, and that life experience can come in handy when speaking about this complex topic. Not only that, but a dad usually has his daughter's best interests at heart. He often knows her inside and out — what she needs, what she wants, and most importantly, what she deserves. So it's safe to say that on the subject of finding a life partner, he can probably provide some pretty relevant and profound guidance.
And while it may feel awkward to ask dad for advice on love, research has shown that many of us are eager for more of that kind of parental guidance. In fact, a 2017 Harvard study about the dating habits of 2,000 young adults (ages 18-25) found that about 70 percent of millennials described wishing they had received more info from mom and dad about finding and keeping love.
So, whether you had a dad who freely shared his thoughts on marriage or wish you did (full disclosure: I fall under the latter category), here are some of the little nuggets of wisdom some ladies got from their fathers on the topic of making a life-long romantic commitment.