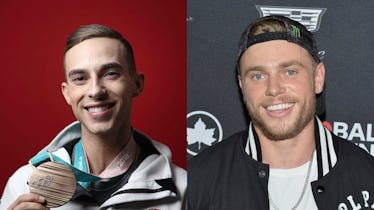 Adam Rippon & Gus Kenworthy's Friendship Is The Real Star Of The 2018 Olympics
Ker Robertson/Getty Images Sport/Getty Images & Marianna Massey/Getty Images Sport/Getty Images
It goes without saying that Olympians Gus Kenworthy and Adam Rippon have stolen our hearts. Not only have they gained wide-spread attention due because of their incredible winter sport skills, but they are also the only two openly gay male U.S. athletes competing during the 2018 Winter Olympics. One might think this would cause a little bit of rivalry between the two, but Gus Kenworthy and Adam Rippon's friendship proves that not even competition can breakup this bromance.
Before you ask, no, they aren't dating. Rippon, a figure skater, and Kenworthy, a freestyle skier, first connected via Instagram and eventually met while competing for Team USA in the 2018 Pyeongchang Winter Olympics. While there might not be any romantic chemistry between the two, the pair immediately hit it off as friends.
During an interview with People, Kenworthy dished on the story behind his and Rippon's iconic friendship, including their first encounter.
He said,
Us becoming friends just happened kind of naturally. The first time I heard about him was because he was one of the other openly gay athletes trying to make it to the Games. And so I started following him and he was following me, and we started exchanging messages and catching up on each other's qualifying processes and rooting each other on. It's a stressful time in any athlete's life, and we were sort of dealing with the same pressures. So I think we had a lot to kind of connect over. It was just like sparks flying, like instant friends, fast friends. I love the guy. I think he's hilarious, I think he's so sweet and so charming. So I'm very excited about our friendship.
And the gold medal for most adorable friendship goes to...
Make that two gold medals.
During an interview with sport blog For The Win, Kenworthy discussed the support he and Rippon give one another as openly gay male athletes in such public spotlight.
Kenworthy said,
It means the world to have everyone's support, but I think it's incredible to have him here, because he understands everything I'm feeling and going through, and I feel and understand everything he has in front of him. I totally understand his pressures, and we can relate. Even if we don't talk about that, we have an understanding of what each other are going for.
Since meeting and ultimately becoming the epitome of #friendshipgoals, the duo have shared moments of their Olympic-level friendship via social media.
I, for one, hope it never stops.
When they're not gushing about each other on social media, they're cheering each other on during their Olympic events. During Rippon's free skate routine on Feb. 17, Kenworthy sat in the stands cheering his bestie on, all while proudly waving an LGBTQ+ flag. Preparing for Kenworthy's men's slopestyle final on Feb. 17, Rippon took to Instagram to show support for his snowboarding pal.
But don't bother hardcore stanning this friendship as a relationship, because the two are seriously just friends. But if you need extra emotion, Kenworthy's adorable relationship with boyfriend Matthew Wilkas is also something everyone is getting the feels about.
On Feb. 17, while preparing for the men's slopestyle event, Kenworthy and Wilkas shared a sweet kiss right before Kenworthy headed off to compete. To make matters even more adorable? The couple reportedly didn't even know the cameras were on them when they captured this totally candid and sweet moment between the two, according to The Guardian.
This is clearly a historic moment for the Olympics, and I'm absolutely living for it. Not only do we get to see two amazing athletes at work, but they're free to be themselves, 100 percent. Live your best life, guys!