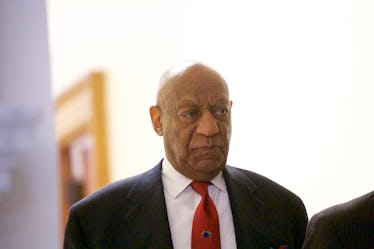 This Powerful Viral Video Is Showing The Real Impact Of The Bill Cosby Verdict
Mark Makela/Getty Images Entertainment/Getty Images
In the conclusion of a long-running fall from grace, comedian Bill Cosby was found guilty on three felony counts of aggravated indecent assault on Thursday, April 26. It was the finale of both a legal battle that spanned nearly two and a half years, as well as a more than 50-year history of accusations of abuse against the comedian. And now, this viral video of reactions to the Bill Cosby verdict show just what this validation meant to the multiple women who came forward to accuse Cosby of abusing them.
The verdict against Cosby was read shortly before 2 p.m. ET at the Montgomery County Courthouse in Norristown, Pennsylvania, where the case was being held. It was Cosby's second trial on the charges, after a previous trial a year ago ended in a hung jury. This time, the 12-person jury deliberated for just about 14 hours before returning their verdict, according to the Associated Press. Cosby was found guilty of three counts of assault against Andrea Constand: penetration with lack of consent, penetration while unconscious, and penetration after administering an intoxicant.
After the verdict was announced, video from outside the courtroom caught what might be the hardest-hitting proof of the impact of this trial. Three women who ABC News identified in a tweet as accusers of Cosby's walked out of the courtroom together before collapsing, sobbing against the marble stairwell of the courthouse. In an emotional moment, one of the women wraps her arms around another, sharing comfort, as a fourth woman runs forward to join them. Off-camera, someone can be heard asking "is she all right?" to which one of her companions offers a nod and a thumbs-up.
It's a moment made all the more powerful when you consider the tidal wave of accusations that brought Cosby down. Though the allegations against Cosby span over five decades, the comedian's downfall really began in 2014, when a viral Hannibal Buress comedy routine referred to Cosby as a "rapist." The viral moment prompted several accusers to come out against Cosby again, including Constand, a former Temple University employee who accused Cosby of drugging and sexually assaulting her in 2004, and in 2005 sued him after the Montgomery County district attorney declined to press charges in the case.
In July 2015, New York Magazine ran a portfolio of profiles of 35 women who had publicly come forward to accuse Cosby of sexual assault and abuse, sharing stories that ranged from the 1960s through the early '00s. Cosby, through legal representatives, denied any wrongdoing, and in a 2014 statement, referred to the accusations against him as "decade-old, discredited allegations." In the New York Magazine profile, many of the women who came forward expressed a new sense of power that came from hearing other women tell their stories, and knowing that they were not alone in facing Cosby down. "I'm no longer afraid," one accuser told New York Magazine. "I feel more powerful than him." By May of 2016, at least 58 women had come forward against the comedian.
So it's not really a surprise that with the verdict against Cosby, many are feeling that justice has been served for all, even though Cosby has only been convicted of assaulting one person.
In a statement shared with Elite Daily, Angela Rose, executive director of PAVE (Promoting Awareness | Victim Empowerment) praised the verdict. The statement read,
Today is a victory for all survivors of sexual violence. Thanks to the courage of Andrea Constand, her family, all Cosby survivors, and the legal team, all survivors now know they have a choice not to be silenced, and justice may never again take decades. This trial and verdict is bigger than Bill Cosby, it sets the groundbreaking precedence of the standard of consent. From opening statements to closing arguments, the defense used tactics of victim blaming and shaming. These are tactics that are used to intimidate survivors — but Andrea Constand stood strong and was not intimidated.
Cosby faces 10 years in prison, which may be served concurrently, for each of the three counts on which he was convicted. No sentencing date has yet been set.