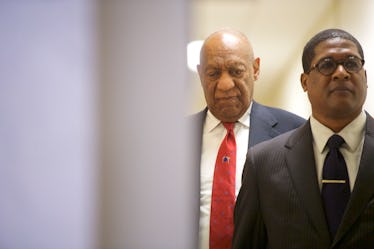 Bill Cosby Was Found Guilty Of Sexual Assault & Twitter Has So Much To Say
Mark Makela/Getty Images Entertainment/Getty Images
After years of being accused of similar crimes but never convicted, Bill Cosby, 80, was found guilty Thursday, April 26, of drugging and sexually assaulting a woman 14 years ago, in a high-profile retrial case. People jumped to to Twitter to share their thoughts and reactions to the news, and tweets about Bill Cosby's guilty finding show it's never too late to speak up. Cosby was charged with drugging and sexually assaulting Andrea Constand in a Philadelphia suburb in 2004, per The New York Times.
She first met Cosby in 2002, when, at 29, she was the director of operations for Temple University's women's basketball team and was introduced to Cosby by a mutual friend at the campus' Liacouris Center, according to People magazine.
But the implications of the conviction reach much farther than Constand's account — Cosby has been accused by more than 40 other women with similar sexual allegations — and according to published reports, that pent up tension was felt in the Pennsylvania courtroom Thursday.
Lili Bernard, who in 2015 accused Cosby of drugging and raping her in the '90s, was overcome with emotion outside the courthouse — weeping and hugging other women she crossed paths with. Bernard guest-starred on the final season of The Cosby Show. "I feel like my faith in humanity is restored," Bernard said of the guilty verdict.
Attorney Gloria Allred, who represented many of Cosby's accusers, addressed reporters outside the courthouse Thursday and praised the prosecutors.
"They believed in this case," she said. "They went through that first trial — ended in deadlock. Some prosecutors would not have retired the case. They took that risk for justice."
Cosby's first trial last summer ended after six days of deliberations; the jury was deadlocked, per the Times. The retrial took place in the same courthouse and before the same judge as last summer, and Cosby's defense team reportedly tried to paint Constand as a con artist. The prosecution asserted that Cosby hid behind his gregarious public persona as Cliff Huxtable, to prey on women that he earlier drugged. During closing arguments on Tuesday, April 24, a special prosecutor, Kristen Gibbons Feden, reportedly told the jury: "She is not the con. He is."
The news led to an outpouring of support for survivors of sexual assault in general, as well as support for the #MeToo movement.
Inside the courtroom, Cosby reportedly lashed out after District Attorney Kevin Steele asked the judge to revoke his bail following the guilty verdict, per Variety. The prosecution argued that Cosby is a flight risk due to his private jet. Cosby reportedly shouted, "He doesn't have a plane, you assh*le!"
The three felony counts of sexual assault — penetration with lack of consent, penetration while unconscious, and penetration after administering an intoxicant — are punishable by up to 10 years in state prison, per the Times. Thomas Mesereau, Cosby's lawyer, said that his legal teem was very disappointed by the verdict and that the "fight is not over." He added that they intend to appeal.
The Times reported that jury candidates were required to indicate that allegations of sexual misconduct against dozens of other famous men would not affect their judgment of Cosby during the selection process. It's one of the first major #MeToo accusation to play itself out inside of a courtroom, and people on Twitter were quick to mention others who ought be next in line for legal consequences.
Angela Rose, executive director of the nonprofit Promoting Awareness Victim Empowerment (PAVE), said in a statement to Elite Daily that the latest Cosby verdict was part of a bigger movement. Rose said,
This trial and verdict is bigger than Bill Cosby, it sets the groundbreaking precedence of the standard of consent. From opening statements to closing arguments, the defense used tactics of victim blaming and shaming. These are tactics that are used to intimidate survivors — but Andrea Constand stood strong and was not intimidated. Consent is a freely given, enthusiastic, verbal and sober 'yes', not the absence of a 'no'. If a person is rendered incapacitated by an intoxicant, there is no notion of consent. Sexual assault is the most under-reported crime in the US and many survivors don't report due to fear or shame.
After seeing the shock and pain caused by the dismissal of the charges against Cosby last year, it certainly feels like this is a watershed moment. The implications of this likely won't be fully realized for some time, but the jury definitely set a precedent with this case. If someone who was at once as likable and famous as Cosby can be prosecuted successfully, then everyone else can be.