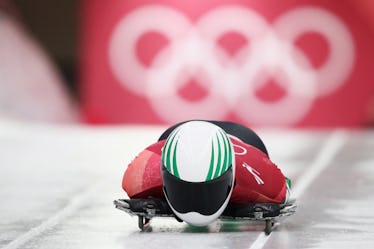 This Video Of The Nigerian Bobsled Team Will Seriously Impress You
Sean M. Haffey/Getty Images Sport/Getty Images
Just a couple of disclaimers before we get cracking here: I don't know what it takes to be any kind of athlete. I have literally zero idea what it takes to drive a bobsled, get in a bobsled, look at a bobsled, or be near a bobsled. And I certainly have no concept of what it must feel like for the Nigerian women's bobsled team to compete at the Olympics, but I can only imagine it feels pretty epic. In fact, this video of the Nigerian bobsled team is one of my favorite moments in the 2018 Winter Games.
A video shared on Twitter shows a quick segment of Nigeria's performance on Tuesday, Feb. 20. However, the full video of Nigeria's run can be viewed on NBC's Olympics website. Seun Adigun and Akuoma Omeoga of Nigeria finished their first 2018 Olympics run in 52.21 seconds. The video shared by NBC shows the team quickly sliding down the bobsled track, competing against the Republic of Korea's time. The sled, which is accented with green and white designs, can be seen gliding through the twists and turns. During the historic run, Adigun and Omeoga became the first athletes from an African nation to compete in the bobsled competition.
This year, the Winter Games are being held in PyeongChang, South Korea, which is, like, pretty far from Nigeria. Just over 7391 miles, to be exact. The countries have two totally different climates, making training and practicing for the games a little tricky in the girls' homeland. The natural freezing temperatures of PyeongChang must be somewhat of an adjustment for athletes coming from super tropical climates, but also a welcome change for bobsledders. Temperatures can drop as low as 25 degrees Fahrenheit, which is perfect for speeding down a tube of ice.
Nigerian bobsledders Seun Adigun, Akuoma Omeoga, and Ngozi Onwumere are making history at the 2018 Winter Games just by competing. Quartz Africa reports that Adigun and Omeoga are the first Africans to compete in bobsled, period, and Adeagbo is the first African woman to compete in the Skeleton competition.
The Skeleton is different from traditional bobsled in that only one person goes down the track, and they do it all face first, on their stomachs, on top of a tiny sled. It's almost as if they are riding a real bobsled's skeleton... see what I'm saying?
It looks a little something like this:
Very chill and not at all terrifying, right?
For comparison, this is what a traditional bobsled looks like:
See the difference?
The Nigerian women have become global icons, gaining fans like professional athlete Serena Williams. In fact, Williams shared the girls' Beats By Dre headphones commercial on Twitter, captioning the video,
This video literally gave me chills, I am so excited to watch Nigeria compete in the winter Olympics bobsledding race the first time an African country has ever competed in bobsledding! @beatsbydre#abovethenoise
In the commercial, a voice-over narrator explains the team's story. She says,
... Never seen a bobsled team from Nigeria, or any other country in Africa. But this year, all of that changes, when these three women become the first.
One of the team members also says, "Our goal is to create a legacy where people will never be limited by the fear of the unknown."
Earlier in February, Adigun did an interview with People magazine, partially explaining what got her into the sport in the first place. She said,
I basically got into the sport of bobsledding in 2015 after a little bit of a hiatus from athletics... I also learned that Nigeria, the country, had never had any Winter Olympians … And then to cap it off, I learned that the continent of Africa had never been represented, man or woman, by any bobsled team. So I was like, 'Okay, this is obviously something that is gonna hang over my head if I don't step in and try and do something about it.'
To make this story even more impressive, Adigun admits she first heard about bobsledding only four years ago. She explained, "I didn't have a clue what bobsled was before the 2014 games... Outside of the movie Cool Runnings, that was it!"
Well, if she didn't know what it was then, it's clear she knows what it is now.
Congratulations on everything, Nigeria!
Check out the entire Gen Why series and other videos on Facebook and the Bustle app across Apple TV, Roku, and Amazon Fire TV.