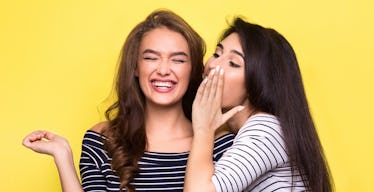 10 Thank Yous You Owe The Friend Who Keeps Your Secrets, Because They're One In A Million
Of the millions of reasons why you love your best friend, the fact that they're the one person who can always count on to keep your secrets, is at the top. You feel totally comfortable telling them anything and everything. As soon as you have a new crush, they already know the scoop. Every hilariously embarrassing story is something you confess solely to them. You trust your bestie more than anyone you know, and a true friend keeps your secrets always and forever.
You know that whatever you tell each other in your best friend convos is locked away for good. It's basically held in a highly guarded vault. Since your BFF is so special, they deserve all the thank yous in the world. Obviously, you're forever grateful, and even though it is implied with your undying love, you should really take the time to thank them for these 10 specific things.
You might want to post a cute selfie of the two of you together showing them just how much you care, or grab their go-to Starbucks order and surprise them with it. It's the little things that show them how eternally grateful you are to have someone you trust with your whole heart.