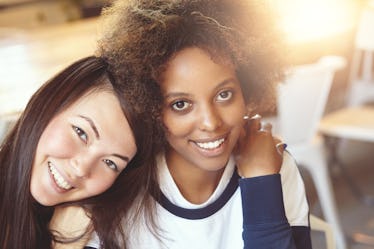 If You Feel Weird Asking Your Best Friend These 11 Things, Is She Really Your Bestie?
A best friendship is truly a one-of-a-kind relationship. You're so much more than friends — you're basically family and soulmates all rolled into one. Your bestie is the PB to your J, and you're linked on another level that makes you feel super comfortable with each other. Needless to say, there are some things you shouldn't feel weird about in a friendship. These are the things you'd likely hesitate before asking or telling anyone else, but they just come so naturally when it comes to your bestie.
You can tell each other your most embarrassing stories and honest opinions without fear of being judged. That's the power of a best friendship. You'd even ask each other these 11 questions without wondering if any of them are TMI, because there is no such thing as too much info between you two. There are no secrets, because you've already shared them all.
Whenever I'm with my best friend, it feels like there's no topic that's off the table. Whatever is on my mind is said, and every conversation brings us even closer together. I feel so incredibly lucky — and #blessed — to have a BFF to spill all the secrets, funny stories, and tea with.