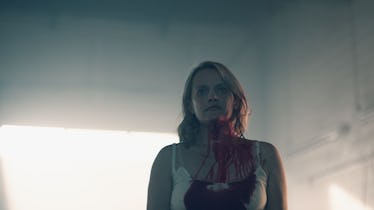 A New 'The Handmaid's Tale' Season 2 Trailer Is Here & It Will Give You Serious Chills
Hulu
There's less than one month until the Season 2 premiere of The Handmaid's Tale, and I officially cannot contain my excitement. Every new piece of information about the second season of the dystopian drama is darker (and more intriguing) than the last, and now that the show is moving past the original material of the book, the world of Gilead seems even more uncertain. On Wednesday, Hulu dropped a new The Handmaid's Tale Season 2 trailer that pretty much confirms my worries that no one is safe in the new season. The 98-second trailer is jam packed with hints of what's to come for June and her revolutionary counterparts, but from the looks of things, no one is getting a happy ending any time soon.
The new trailer opens with a shot of June (Elisabeth Moss) in the back of an armed van — presumably picking up where the Season 1 finale left off — debating what it means to be free. "Is this what freedom looks like? What will happen when I get out?" she asks. "There probably is no out. Gilead is within you." This suggests that June (known as Offred in the oppressive Gilead) has actually made it out of the Commander's grasp with Nick's help, but even now that she's free, she's a long way from ridding herself of the horrors of the dystopia.
Later in the trailer, we see that no one is above reproach for allowing June's escape to happen. Serena Joy (Yvonne Strahovski) is uncertain how to explain her escape to the higher ups, but her husband, the Commander (Joseph Fiennes), feels that June's departure is actually Serena Joy's fault. "If you'd shown that girl one ounce of kindness, she would never have left!" he practically spits in her face. The Commander's words have a little bit of merit — Serena Joy tortured June with photos and small bits of knowledge about her daughter Hannah — but overall, they're wrong. June was going to get fed up with being treated like a sub-human eventually, just as all the handmaids seem to be doing.
At another point, a Gilead leader (we can assume he's even higher up than the Commander) tells a group of highly armed eyes that he "will find every person involved and they will be punished." This means June, yes, but it also means the other handmaids, Serena Joy, the Commander, and potentially the aunts. And good riddance, because Aunt Lydia (Ann Dowd) is literally the most terrifying person in Gilead — and she's not looking any less scary in the new trailer. In one particularly chill-inducing shot, over 30 handmaids hang on nooses in the middle of a field, either dead or in the process of dying. It's clear that there's no mercy being given in Gilead, especially now that June's escape has made the regime's flaws all the more clear.
Outside Gilead, Luke (O-T Fagbenle) and Moira (Samira Wiley) are protesting the regime they were lucky enough to escape from (they both made it to Canada in Season 1). Moira holds a sign saying "My name is Moira" with other protestors who insist upon their pre-Gilead names. Luke, looking at a photo of his wife and daughter, says, "No matter what, I'm not going to stop." Luke has been separated from June and Hannah for years now, but now that June has escaped, he has a second chance at being reunited with his wife.
In the Colonies, Emily (Alexis Bledel) and Janine (Madeline Brewer) are alive, but only barely. "We come here, we work, we die," says Janine about the Colonies' practice of working "un-women" to death. Knowing these two, they won't be in the colonies for long — I'm betting that they'll both find some way to escape.
And that brings us to Nick (Max Minghella), the man who has sacrificed everything to save June. "I'm trying to keep you alive, you and the baby," he tells June towards the end of the new trailer. It's not clear if he'll be escaping with her, but if he does attempt to do so, things aren't looking great for his chances of survival.
All in all, it seems like Season 2 of The Handmaid's Tale will be just as intense as the first installment. Of course, there will be some romance (I see you, Moira!) and more than a few flashbacks — there's one of Serena Joy that looks particularly riveting — but overall, the threat of death looms large for these characters. As terrifying as that sounds, I can't wait to see how it all plays out.
Season 2 of The Handmaid's Tale premieres Wednesday, April 25 on Hulu.