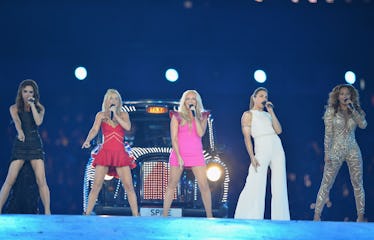 A New Spice Girls Movie Might Be Coming & The Details Will Make You Freak Out
Jeff J Mitchell/Getty Images Sport/Getty Images
Do you know the feeling of receiving such profound news, that all you can do is jump up and down in a fit of joy? If you've yet to ever feel that, prepare yourself, because a new Spice Girls movie might be coming, and the details are going to cause some massive freak-outs for all you '90s girls out there. YUP, you heard that correctly: Baby, Ginger, Posh, Scary, and Sporty might be coming to the big screen... again! But before you start thinking this is going to be a sequel to Spice World, you're going to want to hear what kind of movie is possibly in the works for our fave ladies.
According to Variety, the Spice Girls are considering an "animated film project," and each of the five members "have signed off on their likenesses being used for a superhero-themed movie working off of the 'girl power' message." I'm sorry, but did you just say a SUPERHERO-THEMED animated movie? With the freaking SPICE GIRLS?
Oh. My. God.
It's as if all of my dreams have been rolled into one and then given to me on a golden platter.
But it gets better, you guys.
Apparently, each character in the movie will be voiced by a Spice Girl, and each will "feature a 'girl power' unique to that group member that reflects each girl's personality."
Holding those peace signs up HARD right now.
According to a source, the girls are "fired up about the idea," (because obviously) adding that "The Spice Girls are thinking big in terms of a franchise on a global scale. They're the most successful girl group on the planet."
Damn right they are!
The world got a bit ahead of itself back in February, when Victoria Beckham (you know, Posh Spice) showed the gang back together with an amazing photo on Instagram. The photo immediately prompted fans to speculate as to whether or not the Spice Girls were getting back together. Beckham's caption said,
Love my girls!!! So many kisses!!! X Exciting x #friendshipneverends#girlpower
And a statement given from Beckahm's publicist Jo Milloy to Entertainment Weekly said:
We have enjoyed a wonderful afternoon catching up and reminiscing about the amazing times we have spent together. We are always overwhelmed at how much interest there is across the whole world for The Spice Girls. The time now feels right to explore some incredible new opportunities together. We all agree that there are many exciting possibilities that will once again embrace the original essence of The Spice Girls, while reinforcing our message of female empowerment for future generations.
Obviously, this sparked some ~rumors~ that there would be a Spice Girls reunion tour, and fans inevitably started freaking the eff out:
But there has been no concrete confirmation just yet that the girls will get together to slam it to the left and shake it to the right, so let's all just hold out a bit of hope for an announcement to happen soon.
Victoria Beckham did rain on the parade a little bit back late February, when she spoke about the possibility of a reunion tour during her runway show at London Fashion Week. According to Cosmopolitan, the photo she posted to social media was just a typical girl's night in, and that they weren't discussing a tour:
There is nothing tangible. It was great seeing the girls. Everybody got very excited, but there is no tour, there is no recording.
Ugh. Which is it? Are you touring, or are you not? Are you making an animated movie, or are you not?
Please say that both are totally happening, because I think what this world needs right now is for the Spice Girls to spice up our lives.
Geri, Mel B., Emma, Mel C., Victoria: Say that you'll slam your bodies down and zigazig-ah for us.
Because you are all fierce superheroes in our eyes.