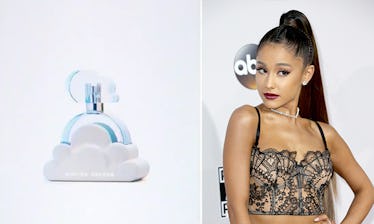 Ariana Grande Just Teased A New Perfume, Because A Surprise Engagement Isn't Enough
@arianagrande on Instagram, Frederick M. Brown/Getty Images Entertainment/Getty Images
If the very thought of a new Ariana Grande perfume on the market gets you sweaty, brace yourself, because the singer just teased a brand new scent — and it's completely different from all the others she's released in the past. First, she released Ari by Ariana Grande Eau de Parfum ($49; ulta), a fruity blend of pear, grapefruit, and raspberry. Then, Sweet Like Candy Eau de Parfum ($39; ulta) came next — and just as you'd expect, it smells just like vanilla and fluffy marshmallow. And finally, her most recent fragrance, Moonlight Eau de Parfum ($59; ulta), highlighted sexier notes of plum, sandalwood, black amber, and vanilla. While all three perfumes are made up of completely different notes, for every side of your personality, they all had one very important detail in common: The bottle design. Although they all have different names and scents, every one of Ariana Grande's fragrances come in a round crystalized bottle with a furry pom pom tied around the neck. Each one comes in it's own bottle and pom pom color, but they all basically look the same.
So imagine my surprise when I casually strolled through the Instagram stories on my feed, and came across one posted by Ariana Grande teasing a brand new fragrance. But the kicker: The bottle looks nothing like any of the others.
While it's not the cute crystal bottle and matching fur ball packaging we're used to, the new bottle is just as adorable. It's a rainbow! The base is a formation of white clouds with Ariana Grande's name printed along the bottom. The perfume sits in a clear blue rainbow-shaped bottle that extends from one end of the clouds to the other. The cap is a clear blue cloud that sits above the rainbow. I can't tell, but it also almost looks like it has a holographic finish on the bottle, which makes it shimmer when the light hits it just so. It's kind of giving me Mariah Carey circa 1999 vibes — same idea, different diva? See below for a screenshot I captured of Grande's Instagram story.
Maybe it's just because I have Pride Month on my mind, but could this be a subtle nod to the LGBTQ community? I mean, it's rainbow shaped and Grande announced it right in the middle of June. She's always been a huge supporter of the community and this could be her own special way of paying tribute.
But, that's it. That's all we get. No more information. I have no idea what the name of the perfume will be, what it will smell like, how big the bottle is, when it releases, nothing. Come on, Ariana! Help a girl out. At the end of her teaser video, the caption "New perfume coming soon" pops up with a white cloud emoji below. Maybe it's not about the rainbow at all. Maybe her next fragrance is inspired by clouds. Maybe it'll be called Cloud by Ariana Grande Eau de Parfum. I'm totally stabbing in the dark here.
But what if I'm right? If her new perfume is inspired by clouds, I'm thinking the scent will be fresh and airy. Think: Clean laundry, but in a much cooler, less Downey way. I'm actually really into it — I might actually be onto something here.
And since I have an upcoming Ariana Grande wedding on the brain (it's a big week for the 24-year-old), I'm assuming we just found the fragrance she'll be wearing when she walks down the aisle. In the mean time, I'll be over here keeping my eyes peeled and refreshing my Instagram feed for more clues on this mystery perfume launch.