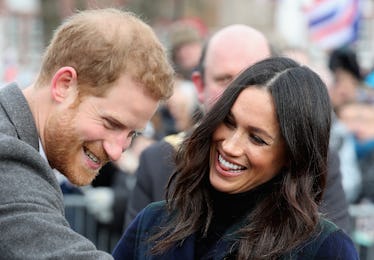 A Meghan Markle Documentary Is Coming To TV & I Seriously Can't Wait
Chris Jackson/Getty Images Entertainment/Getty Images
Now that Prince Harry and Meghan Markle's wedding is less than two months away, interest in the royal couple is at an all-time high. Media companies all over the world are jumping on the royal wedding train, and I am so here for it — the only thing better than one TV special celebrating the most famous wedding of the year is two TV specials. On Thursday, March 22, Variety reported that Fox is getting in on the royal fun with their own Meghan Markle documentary titled Meghan Markle: An American Princess. The doc is set to air on Friday, May 11, just over one week before the wedding, and I literally cannot contain my excitement.
According to Variety, Fox's two-hour documentary claims to be the definitive look at the soon-to-be princess. Rather than recreate Harry and Meghan's relationship with (serious lookalike) actors, like Lifetime's Harry & Meghan: A Royal Romance, the documentary will feature exclusive interviews with people who know Markle and the royal family best. According to Variety, Markle's half-sister Samantha will be featured prominently in Meghan Markle: An American Princess, as well as British journalist Piers Morgan, Princess Diana's former butler Paul Burrell, and Queen Elizabeth II's former press secretary, Dickie Arbiter. These are people with inside knowledge on Markle's life and the unique responsibilities she's about to inherit, so I wouldn't be surprised if the doc spills a few well-kept secrets about Markle's past or life in Buckingham Palace.
According to Fox's president of alternative entertainment and specials, Rob Wade, the decision to order a documentary about Markle's life was a no-brainer. He told Variety,
Since the early days of the British monarchy, right up to the present, the royal family has captivated the minds and imaginations of people across the globe. With Meghan Markle on the cusp of becoming a real princess, joining the likes of Princess Kate and the late Princess Diana, this special will give viewers a unique look and insight into her journey, from her upbringing in Southern California to her wedding to Prince Harry in Windsor Castle.
If you're worried that an American company won't do the doc justice, don't worry: Fox is partnering with a British company, Spun Gold, to produce Meghan Markle: An American Princess. Spun Gold is no stranger to the royal family, either: In the past, they've produced a docu-series about the United Kingdom's ruling family called The Royal House of Windsor and specials with Prince Philip, the queen's consort, and Prince Charles, Harry's father and heir to the throne. According to Spun Gold's managing director Daniela Neumann in a statement to Variety, the doc will "provide viewers with the definitive inside story of the most talked-about wedding of the year" and will be "packed with exclusive insights into how Meghan and the world's most famous family will change each other's lives," so you know this special is not one you want to miss.
In the last few weeks, Meghan Markle and Prince Harry have been making headlines for deviating from centuries-old royal traditions. On March 20, Kensington Palace announced that the couple will be having a custom-made lemon elderflower cake instead of the traditional wedding fruit cake (um, can you blame them?). The cake comes from a London-based pastry chef named Claire Ptak, owner of Violet Bakery Cafe. Based on the bakery's Instagram, it seems like Meghan and Harry made the right choice.
Looks a little better than a fruit cake, right?
In addition, the couple is also getting their own wedding beer, an exclusive creation called Harry & Meghan's Windsor Knot. The pale ale will be available at the Royal Farms Windsor Farm Shop beginning March 28, but if you don't want to make the long journey to London, you can pre-order the drink online.
Harry and Meghan will tie the knot on Saturday, May 19 at St. George's Chapel inside Windsor Castle. I'm seriously grateful for Fox's Meghan Markle documentary, because otherwise, how would I distract myself from the countdown to the wedding?
Just kidding — it's 57 days.