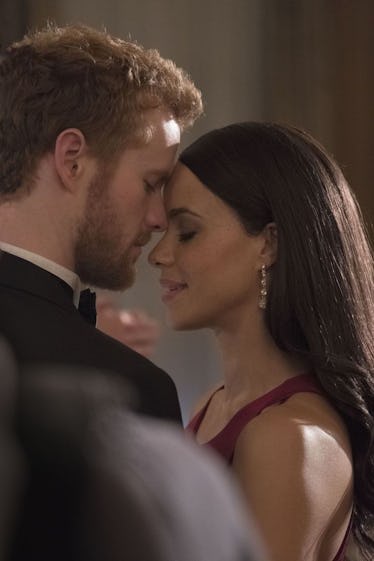 These New Photos From The 'Harry & Meghan' Lifetime Movie Are So Spot-On, It's Scary
Lifetime
We completely understand if your jaw is on the floor, because Lifetime's Prince Harry and Meghan Markle are so spot-on that we just did a double take ourselves. The upcoming television movie about their world-famous relationship now has more pictures to prove its portrayals are precise. Kind of impressive so far, huh?
Parisa Fitz-Henley plays actress-turned-royal Meghan Markle and Murray Fraser steps into the noble shoes of Prince Harry in Harry & Meghan: A Royal Romance. Lifetime is known for their made-for-TV biopics, and the network's casting history has been, in our opinion, a bit spotty at times. You may recall The Unauthorized Full House Story and its awkward wigs or Britney Ever After, whose Britney Spears (Natasha Basset) didn't exactly resemble the mega pop star even if she did attempt to mimic her southern drawl.
These recently-released photos of Lifetime's take on one of the most buzzed-about couples of all time is already shaping up to at least seem like a cut above, so we're looking forward to seeing what the final product will bring. The film will debut May 13, just in time to get you pumped for Meghan and Harry's real-life wedding, which is set to take place a few days later on May 19.
Fraser's Harry game is on point in the above pic — he's seemed to have mastered that endearing open mouthed laugh-smile. And here we have our fair William and Kate at some sort of joyous dinner date scene. Middleton is portrayed by actress Laura Mitchell and the actor behind Wills is Burgess Abernethy. The Duke and Duchess of Cambridge already got their own Lifetime film back in April 2011, William & Kate: The Movie, prior to their public nuptials. Grey's Anatomy fans might be surprised to learn that Kate was played by none other than Camilla Luddington, AKA Jo Wilson, in the flick.
The latest pictures of Kate and William 2.0 (and their little ones, played by Jakub Karwat and Briella Wintraub) give us a better idea of how this growing royal family will look in Harry & Meghan: A Royal Romance.
You may recognize Parisa Fitz-Henley, who landed the coveted part of Markle in Harry & Meghan, from her starring role in Midnight, Texas. The Jamaican-born actress also had stints on shows like Jessica Jones, Luke Cage, and The Girlfriend Experience. Murray Fraser (Prince Harry) is a Scottish actor who's appeared in Victoria and the mini-series The Loch.
Lifetime's new version has also cast Bonnie Soper as Princess Diana, who. The iconic Princess of Whales bas been portrayed on screen in the past by Serena Scott Thomas (Diana: Her True Story), Genevieve O'Reilly (Diana: Last Days Of A Princess), as well as acclaimed actress Naomi Watts (2013's Diana).
Harry & Meghan: A Royal Romance completed filming this month in Vancouver and its star, Parisa, took to Instagram to express her gratitude for the experience. "WHAT an adventure. We worked with fabulous actors, creators and crew. We braved the elements — and got some gorgeous days in there too. I got to take a look inside the life of a woman and a relationship I quickly came to admire and claim as inspirations," she wrote in a heartfelt post.
With all the hullabaloo surrounding the royals — across the pond and stateside — plus, the wedding excitement in the air, we would not be surprised if Harry & Meghan: A Royal Romance wasn't a home-run for Lifetime in the ratings department. Who doesn't love a good fairytale romance? We doubt Harry and Meghan will be tuning in (they have a lot going on that week), but we can't say we're not intrigued.