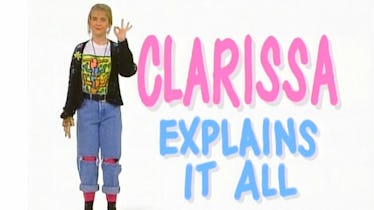 A 'Clarissa Explains It All' Reboot With Melissa Joan Hart Is Happening & OMFG
Nickelodeon
Hey, '80s and ' 90s babies! We know you've been bombarded with nostalgic reboots of some of the most memorable shows from those decades of late, but here's another one that's sure to bring you back to your childhood. A Clarissa Explains It All reboot with Melissa Joan Hart is reportedly in the works, so brush up on those "na na na nas" and take your wildest prints out of storage. The teen sitcom is coming back to a TV screen near you.
Clarissa Darling was an adolescent icon back in the day — her spunky observant musings on high school, the problems of puberty, and just everyday teenage life were an inspiration to young viewers everywhere. Not to mention, she was a style maven who wasn't afraid of loud colors and layering. The role was portrayed by Melissa Joan Hart, who will return for round two of the series, which makes the revival concept that much more legitimate and exciting. In the tradition of Disney's Girl Meets World, Hart will reprise her Clarissa role, except this time she'll be playing the mother role. We can only hope that a modern update of this classic and beloved TV show will capture the magic of the influential original. Let's handle this with care, people. Way cool.
Melissa Joan Hart has weighed in on the possibility of reviving the show in the past, so we're not surprised she's on board. "I think Clarissa would be a better reboot than Sabrina," she told Nerdist last year. (In case you didn't know, the CW is currently gearing up for the forthcoming The Adventures of Sabrina, which will have a darker tone than her TGIF version). The actress elaborated:
I know people really want to see Sabrina, but I think we ended it on such a great note. I don't think you could end it better, and I think people would be highly disappointed with the Sabrina reboot. People have such a memory of it, and like you said, grew up with it. She was in their home every Friday night and just felt like a part of the family. However, I do think a Clarissa reboot would be really smart because I think there was a lot of story left to tell. There was no finale. There was no send-off into the future of what might happen. There was a CBS pilot we did about her going to New York and becoming a journalist, so I feel like that never kind of got completed, needs some closure.
Will Clarissa's journalistic pursuits be touched on in the revival? We're also dying to know what Ferguson is up to these days, and if Sam uses the front door in 2018.
Clarissa Explains It All ran on Nickelodeon from 1991 - 1994. Its executive producer, Mitchell Kriegman, is in negotiations to come back for the next installment. Fans will have to wait on word if other members of the '90s cast will sign on.
While Clarissa was Hart's breakout gig, she's remained in the spotlight ever since — the 41-year-old appeared in many other projects throughout her career, including starring roles in TV hits Sabrina, The Teenage Witch and Melissa & Joey.
"But Clarissa taught me a lot — if she could stand up to a bully or date the bully, break boundaries and stand up for what she believed in and be smart, sassy and likable, then I could be those things too," Melissa has said of relating to the bold character. She taught '90s kids a lot, too. Here's hoping she (and her new TV family) have the same impact on a new generation.