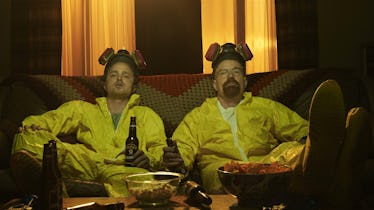 A 'Better Call Saul' 'Breaking Bad' Crossover Is Officially Happening & I Can't Handle It
AMC
Even if you're as far from San Diego as possible this weekend, you'll inevitably come across breaking TV news that is a result of Comic-Con festivities. For anyone not in a complete Comic-Con bubble, the weekend isn't even officially here yet, but Breaking Bad fans have a reason to celebrate early. As revealed at a Comic-Con panel, a Better Call Saul and Breaking Bad crossover is officially happening, and you better get your hazmat suits ready ASAP.
At Better Call Saul's Comic-Con panel this week, the cast and crew present also honored the 10th anniversary of the start of Breaking Bad. While Breaking Bad star Aaron Paul surprised attendees with his five-month-old daughter dressed in a Walter White hazmat suit, Peter Gould, co-creator of Better Call Saul, admitted to fans about Better Call Saul's upcoming season, "You're going to see some stuff that's going to look very familiar in a delightful way."
Sounds pleasantly vague, right? Well, the show's Twitter account later posted Gould's promise, and the Breaking Bad Twitter page proceeded to retweet the message and include its own post, writing, "THE CROSSOVER BEGINS." Cue Walter White and Jesse Pinkman!
Breaking Bad creator and Gould's Better Call Saul co-creator Vince Gilligan confirmed at Breaking Bad's recent Entertainment Weekly reunion shoot that he was interested in having Paul and Bryan Cranston reprise their acclaimed roles on Better Call Saul. With the show's fourth season already wrapped and due to premiere in August, neither man will appear on the show soon, but at the Comic-Con panel, Gilligan and Gould only reiterated that their goal is to include both men on the series before it ends.
As Better Call Saul is a prequel exploring how Bob Odenkirk's Jimmy McGill became Walter White's attorney Saul, Walter and Jesse can appear in the show's timeline seemingly without disrupting the events and canon of Breaking Bad. The show has also included moments that take place after Breaking Bad, a timeline in which at least one of those complex characters could pop up.
At the EW cast reunion earlier this summer, Paul spoke about trusting Gilligan to create cameos for the characters that were substantial rather than gratuitous, saying:
My attitude towards it is the same I had from when Better Call Saul first started. If Vince decided to put Jesse in Better Call Saul, it's going to be for a reason, and that reason's going to be very satisfying for me. I trust in Vince. I don't think he would just do that to satisfy the fans. It would have a purpose, and whether or not he decides to find that purpose or searches for the purpose, I don't know. But if he does find that purpose, I'm happy to jump on board.
Cranston was also open to a Better Call Saul appearance, even telling EW that he had suggestions for Gilligan about how to work in Walt and Jesse. We could always try to take a guess at the ideas Cranston has in mind, but seeing as Breaking Bad was the way it is, I don't think fans' assumptions would even come close to the reality of the situation.
While you'll have to binge a rewatch of Breaking Bad for a reminder of the onscreen acting magic between Cranston and Paul, Season 4 of Better Call Saul will premiere on Monday, Aug. 6, at 9 p.m. ET on AMC. The official Season 4 trailer is also available, so start your theorizing now!