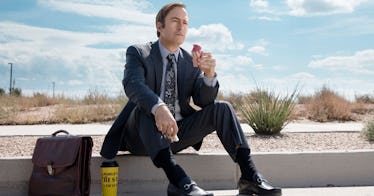 The 'Better Call Saul' Creator Is Dying To Have These 'Breaking Bad' Characters On The Show
AMC
Season 4 of Breaking Bad prequel Better Call Saul premieres this August, but at the moment, fans' conversations are more focused on the show's source material, as Breaking Bad recently celebrated a decade since its 2008 premiere. Nothing can quite measure up to the complex narrative of Breaking Bad, but Better Call Saul has come close with its additions of old Breaking Bad cast members such as Giancarlo Esposito. However, Breaking Bad creator and Better Call Saul co-creator Vince Gilligan wants his two original TV icons to make their mark on the prequel series, so will Walt and Jesse be on Better Call Saul? The chances are unlikely for a recently wrapped Season 4, but never say never when it comes to cameos from Bryan Cranston and Aaron Paul.
Premiering two years after Breaking Bad's 2013 finale, Better Call Saul hasn't reached the widespread popularity of the first series, but devout Breaking Bad fans have enjoyed watching Jimmy McGill gradually becoming more corrupt and taking on the alias Saul Goodman. Seeing as the show takes place before the events of Breaking Bad, it would make sense for Cranston's Walter White and Paul's Jesse Pinkman to pop up in Better Call Saul. As Entertainment Weekly points out, Jesse could even logically appear in Better Call Saul's flash forwards showing Bob Odenkirk's titular character working at a mall.
At the magazine's Breaking Bad cast reunion, Cranston, Paul, and Gilligan shared if the characters could appear in the prequel without their cameos feeling gratuitous. For Paul, Gilligan's reasoning for potential appearances would be enough to convince him to step into Jesse's shoes again. He told EW:
My attitude towards it is the same I had from when Better Call Saul first started. If Vince decided to put Jesse in Better Call Saul, it's going to be for a reason, and that reason's going to be very satisfying for me. I trust in Vince. I don't think he would just do that to satisfy the fans. It would have a purpose, and whether or not he decides to find that purpose or searches for the purpose, I don't know. But if he does find that purpose, I'm happy to jump on board.
Cranston agreed, even admitting that he has several ideas about cameos that he would pitch to Gilligan and his Better Call Saul co-creator Peter Gould. He told the magazine:
If [Gilligan] asked, I would just say yes... 'Yes' is the answer. Even if it's just a brush-by. A quick little something. We've come to know people who we've seen before but we don't know that we've seen them before, because we were in the store and we just passed by them. Or we might even have a word or two. 'Oh no, please go ahead.' 'Thank you for holding the door.' And then five years later, you would never remember that.
Gilligan has already welcomed Cranston to the Better Call Saul set for a brief visit, but he hopes to bring both Cranston and Paul back for on-camera appearances, telling EW:
I desperately want to see both of them on Better Call Saul. Peter [Gould] wants it, the writers do, the actors do... [I]t wouldn't feel as satisfying if it was just a cameo or an Alfred Hitchcock walkthrough. I think we've waited long enough. We damn well better have a good reason for them to show up. I just hope we figure it out because I've got to hear, 'Yeah, bitch!' one more time.
I definitely can't tell which situation I would prefer, but perhaps the scenarios that fall into place throughout Season 4 will hint at what kind of Walt and Jesse appearances would work best.
Season 4 of Better Call Saul premieres on Monday, Aug. 6, on AMC.