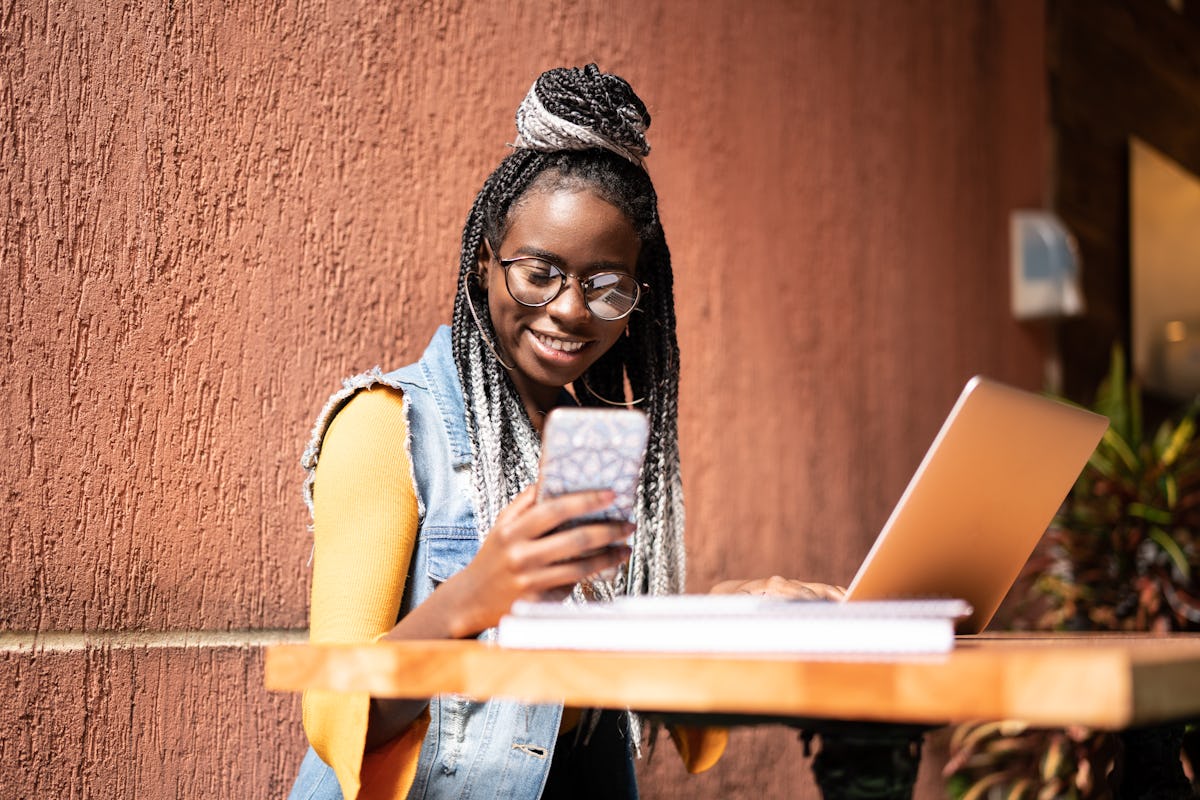 90 Clever Group Chat Names For The Work BFFs You Love A Latte
FG Trade/E+/Getty Images
Nowadays, you probably have a group chat for your family, your besties, and even your work friends. Considering you're a pro at managing multiple assignments at once, you know how important it is to stay organized, and coming up with clever group chat names for work friends is one way to do that. After all, you don't want to accidentally send your family chat an inside joke only your coworkers would understand.
Throughout the workday, you probably check in with your crew in between responding to emails and signing into virtual meetings. You may have a tradition of treating yourself to a fun coffee drink from your favorite café on Fridays, and your group chat's where you send your foam art pics. The chat is also where you dish the tea on what's going on in your life and the funny things that happen in your early morning meetings.
Basically, this group chat is a highlight of your workday, so it's time to make it official with a name you can all agree on. Since you turn to your friends the most for LOLs and pick-me-ups when your morning espresso is losing its effects in the afternoon, any of these 90 clever work group chat names will match your vibe. The list is filled with work-related puns that will make you laugh, so send it to your chat and see what makes them giggle the most.
1. Let's Take This Offline
2. Coffee Crew
3. Work Wives
4. You Are Tea-riffic
5. Peach Of My Heart
6. Heard It Through The Grapevine
7. Partners In Crime And Wine
8. Bagel Bros
9. Walkie Talkies
10. Together No Matter Watt
11. Virtual Water Cooler
12. Game Of Phones
13. Gossip Girls
14. Too Blessed To Be Stressed
15. The Cherry Best
16. Shrimply The Best
17. Snailed Those Deadlines
18. Pawsitive Vibes Only
19. Doughnut Worry, Be Happy
20. Good Chives Only
21. Cannot Espresso How Much You Bean To Me
22. My Cup Of Joe
23. My Everything Bagel
24. My Bae Girls
25. Brewtiful
26. Nacho Average Crew
27. Seize The Workday
28. Bae-goals
29. The Cream In My Coffee
30. Just Brew It
31. Lettuce Talk
32. Grape Job
33. Main Squeezes
34. That 3 p.m. Caffeine Crash
35. Mermaid To Be Besties
36. Doughnut Forget
37. Love A Latte
38. Brew Can Do It
39. The Office Memes Only
40. My Email Checkers
41. World's Best Bosses
42. Should Have Been An Email
43. Where Have You Bean?
44. Coffeels
45. When's The Meeting?
46. You Can't Spill The Tea With Us
47. Paper Jam
48. All That And Dim Sum
49. We Excel
50. Taking Control
51. Who Run The Office
52. My Sistars
53. Lunch Crew
54. Wheely Good Friends
55. My Best-teas
56. Otterly Awesome Friends
57. Espresso Patronum
58. Koala-Tea Friends
59. Cool Beans
60. CAPS LOCKness Monster
61. Supplies Party
62. Everyone Romaine Calm
63. Chai There
64. Gouda Friends
65. Mugnificent Crew
66. Ketchup With Friends
67. Cerealsly The Best
68. Muffin Compares To You
69. Souper Friends
70. Thanks A Lox
71. Livin La Vida Mocha
72. Watts Up
73. Let's Cake It Easy
74. Thanks For Pudding Up With Me
75. Hap-bee Together
76. Someday Our Prints Will Come
77. The Keyboard To My Happiness
78. Let's Taco 'Bout It
79. Friendchips And Guac
80. Best Fries Forever
81. Support Bras
82. You Sweater Believe It
83. Brr, It's Cold In Here — Bring It On
84. The PB To My J
85. We Just Click
86. Staple Relationship
87. I Ap-peach-iate You
88. You Make My World Butter
89. You Make Me Soy Happy
90. My Cup Of Tea
This article was originally published on