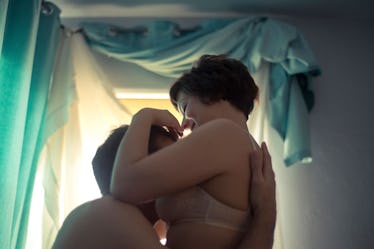 9 Women Weigh In On The Most Memorable Sex They've Ever Had, & It's So Juicy
Sex can be a truly wonderful thing, but remembering every single time you get busy might be a little tricky. However, there's probably one specific time that stands out as the most memorable sex you've ever had. A Reddit thread posed the question, "What's the best sexual experience you've ever had?" and users certainly delivered. Below, you'll find nine women who revealed the most memorable sex they've ever had, and OMG, it is so juicy.
Think about the most memorable sex you've ever had. Whether it was the emotional connection you felt with the person, your carnal desire for them, and/or what it was you were doing, something made it stand out. If just the thought of that time sends tingles up your spine and makes you long for that kind of sexual pleasure again, figuring out what specifically made it the most memorable is a good place to start. If you can pinpoint that, you may be one step closer to feeling that euphoria a second time. The time is now, my pretties! You deserve to feel that good every time you have sex, and don't let anyone tell you otherwise. If you're drawing a blank and can't remember exactly what it was about that one time, here are nine women's most memorable sexual experiences to help jog your memory. Warning: It's about to get hot in here.