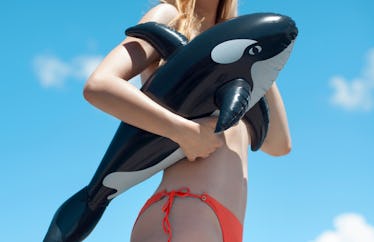 9 Women Reveal Why They Prefer Bikini Waxes Before They Get Intimate
I've been getting bikini waxes for about five years now and I have no regrets. Well, one: they're expensive. Other than that though, I'm happy to swap a few minutes of excruciating pain for smooth skin down there. With all the horror stories about pain (they're all true), you're probably wondering, "Why do women do bikini waxes?"
Well, I started getting bikini waxes after I got out of a four-year, long-distance relationship. I realized that because I'd gotten used to never having to dress up or look special for anyone while my partner and I lived in different countries that I'd sort of given up on myself. Ultimately, my decision to get a bikini wax was inspired by a desire to regain my confidence, in and out of the bedroom. Yeah, it hurt like hell but I felt sexier and strangely powerful afterward. I figured if I could get through a bikini wax, I could get through anything else life threw at me that year. I especially loved that I had done it purely for myself since I wasn't seeing anyone at the time.
Ironically, since then, I've noticed that I'm much better about keeping up my wax routine when I'm single. I think it's because when I'm in a relationship, I get so comfortable that a little stubble really doesn't phase me. Luckily, it's never bothered any of my partners, either. I honestly think I enjoy the feeling more than they do.
That's just my story, though. Here's why nine other women say they get regular bikini waxes.