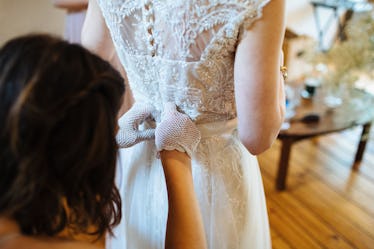 9 Tweets About Wedding Dress Shopping That Show The Highs & Lows Of The Process
If you've ever watched an episode of Say Yes to the Dress (or literally any Katherine Heigl move from the mid-2000s) then you've seen what it takes to go wedding dress shopping. It can get expensive, sizing is weird, and brides might find themselves buying the exact opposite kind of dress than what they planned. It's a wild ride, but for any bride out there about to head out and try on gorgeous gowns, these nine tweets about wedding dress shopping are the perfect blend of hilarious and honest, so that you're prepared for anything.
Hopefully your own wedding dress shopping experience is lovely, and more along the lines of Kate Hudson in Bride Wars than Maya Rudolph in Bridesmaids. But whatever happens, it's usually nice to know that you're not alone in your shopping experience. Personally speaking, my wedding dress shopping experience was a lot easier than I even imagined it would be. I found my dress in 45 minutes and it was right on budget. However, every bride has a different story to tell, and if you're nervous to go try on dresses, or just want to know you're not alone, then these tweets are perfect for you.