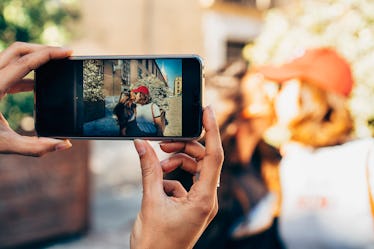 9 Tips For Coming Out Online, Because You Decide How To Keep Others Posted
Shutterstock
Whether you pen a heartwarming post or drop an "I'm queer" meme, there is no wrong way to come out online or on social media. Still, if you're thinking about expressing yourself digitally, these nine tips for coming out online may really come in handy.
"It can be appealing to come out online, knowing you'll get your message across to everyone you care about at the same time, near-instantly," Marissa LaRocca, award-winning writer, speaker, and LGBTQ+ activist, tells Elite Daily. "Some individuals might choose to come out online to a few close friends as a 'test' to build the courage to then come out in person to family members."
Though coming out looks different for everyone, opening up online can be an efficient and comprehensive way to express who you are. For McKenna Maness, sex educator and former Education and Prevention Coordinator at The Santa Cruz AIDS Project (SCAP), posting online made coming out a quicker and less nerve-wracking process. "It was much scarier to constantly have to come out to people IRL," Maness says. "I don't think I was scared to post because I was in such a moment of 'This is me.'"
If you're feeling ready to express yourself on the web, here are eight tips for coming out online.