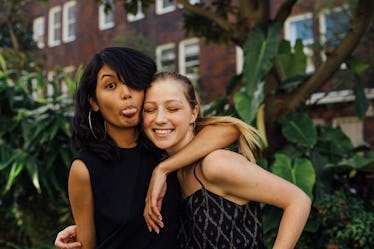 9 Little Things Your BFF Does That Motivate You To Be A #GirlBoss In All Aspects Of Life
Let's be real: There are few people in your life who are cooler than your best friend. Not only are they one of the most amazing people you know, but they're also one of the most supportive people ever. They make you turn on your confidence and help you confidently walk out the door every day feeling like a total queen. There are a million things your best friend does to motivate you to be a #GirlBoss in all aspects of your life, but I've narrowed down the list to just nine of my favorites.
I've been lucky enough to encounter a couple amazing people who I'm proud to call my best friends. I've known my best friend from high school for almost 10 years. Even if we don't see each other for months at a time, I know he's there for me no matter what, and will drop everything if he knows that I need him. My college best friend has been with me through some of the most formative years of my personal development, and she's the best hype woman I could ever ask for. Both of them make me stand taller and walk prouder, and I couldn't be more grateful for their endless love and support.
As I've reflected on what makes them such awesome BFFs, I've realized that everything they do for me centers around one thing: encouraging me to be the best version of myself in any way they can. Not to brag or anything, but you should definitely find some besties like them. If you already have a BFF or two who immediately come to mind, they probably already do these nine things.