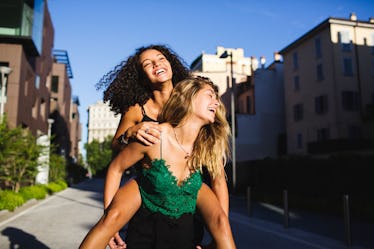 9 Things That Remain The Same Between BFFs In Their 20s As They Were In Their Teens
Your 20s is a pivotal decade in your life. This chapter shapes and defines who you are as an adult. Even though you're growing and embracing your dreams, there are a few things that will never change about you — and one of them is your best friendship. Sure, some friends may come and go throughout your life, but your BFF is the forever type. You're both navigating adulting now, but there are some things that stay the same between friends in their 20s as they were in their teens.
Your friendship only gets stronger with age. You might have the same squad since high school. And even though you may live in different places now, they will always be your ride or dies. That's why you can count on your friendship with your bestie (or core group of besties) to stay consistent over the years. What bonded you as teens is what makes the distance not a problem at all in your 20s.
My best friends are spread out across the country, but anytime we're back together, it's like we're teens again and laughing nonstop. We've definitely matured and have a great work-life balance in our 20s, but there's no denying that these nine things are still going strong as well. These are basically the main components in a forever kind of friendship, so you know they're not going anywhere.