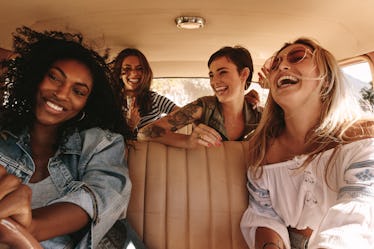 9 Things That Happen On Your Bestie Road Trip That'll Make You LOL Down The Road
There's nothing better than cruising with your best friends in the car. You're singing along to your favorite songs on the radio, and eating the best snacks. With the wind blowing through your hair and the open road in front of you, it can make for some of the best memories ever. Though, there are other things that happen on a road trip that'll make you and your BFFs laugh a little more down the road.
These are the inevitable road trip experiences you'll run into. They may be bumps in the road at first, but when you're looking back on this trip, these are the moments that'll make you and your best friends laugh the hardest. As an expert traveler, you know exactly what I'm talking about.
These little things are the reasons why I love road trips in the first place. While the destination is set, you never know what's going to happen along the way. The surprises and spontaneous pit stops are what give you the hilarious (and sometimes cringeworthy) stories you cherish for a lifetime. It also shows that no matter where you're going or what you're doing, it's always the best time when your squad is around.