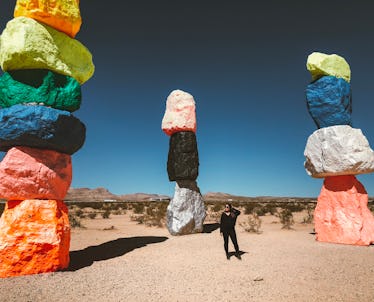 The 7 Millennial Hot Spots That'll Make Your Cross-Country Road Trip Enviable AF
In my opinion, summer travel is the best travel. So many destinations are embracing their nicest weather of the year, and there are so many different ways to travel when it's warm outside. You can fly, of course, or take a long train ride, hop on a bus, or jump in a car with a pal or your SO and take a road trip from wherever your starting point may be. Road trips are fun and adventurous, and bring you so much closer to whomever you're traveling with. Here are some of the best places to stop on a cross-country road trip that will seriously up your Instagram game and make all of your followers jealous.
Obviously, it's impossible to fit every Instagrammable place in the country on this list. (I can think of seven in my neighborhood in LA alone!) But having a general guide that can help you plan out some of the best Instagram moments of your trip can be super helpful when you're figuring out your game plan.
From the Griffith Observatory in Los Angeles, to the red stairs in Times Square in New York City, you're bound to find beautiful, mesmerizing, charming, and seriously chic places to take a ton of pictures to fill up your feed. Here are just a few of my absolute favorites.