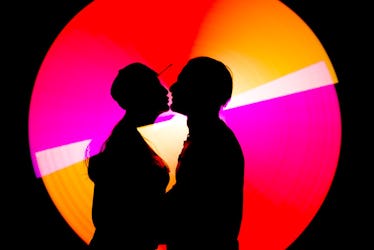 9 Second Anniversary Instagram Captions That Perfectly Express Your Long-Term Love
It's widely accepted that a first anniversary is an occasion worthy of celebrating. You've managed to make it an entire year with another human by your side, and by default, you're now in "serious" territory. You and your partner probably plan a nice dinner to congratulate yourselves, as you should. But when your two-year anniversary rolls around, you might not remember to plan anything, not even a second anniversary Instagram caption — it somehow feels like momentous. "Two years? Cool, no big deal."
But I think that second anniversaries are wildly underrated: you've doubled the amount of time you've spent together since your first anniversary. You've gone from 12 months to 24 months, and that's a giant accomplishment. Plus, the second year of a relationship is typically less "ponies and rainbows" than the first year — you're not caught up in puppy love, you're doing the damn thing for real.
All of that said, let's be real: the second wedding anniversary gift is "cotton." And while your milestone certainly deserves some Instattention, it's, um, awfully hard to come up with a cutesy cotton-themed joke. If you plan to post an Instagram for your second anniversary, I say keep it light and stacked with humor. It's a science: you can be sweet and salty at the same time. (Just ask chocolate covered pretzels). Here are my suggestions for the semi-big two years.